June 1, 2009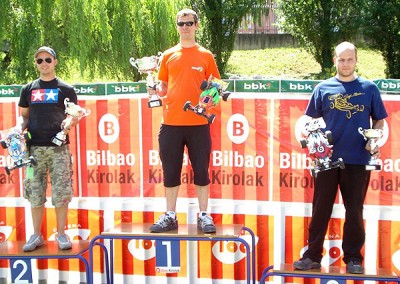 Last Saturday a number of foreign racers attended the 2nd round of the Spanish Championship, which was also the warm up race for the upcoming European championship next August. A very nice track greeted all the drivers, which was 80% astroturf, and after 5 qualifying rounds Hupo Hönigl claimed the TQ spot in 2wd, followed by the local driver Borja Hernandez and Martin Kreil. The Spaniards Alberto Cano and Miguel Santos in the following spots showed not only they are fast, they had pace enought to fight in the mains with the fast guys.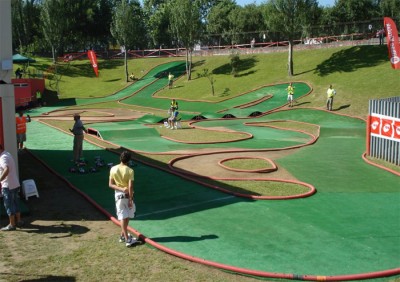 At the beginning of the first leg of finals Hupo had troubles and went down in the pack, allowing Borja Hernandez to run consistently and take the win. Hupo push so hard in the last laps finishing just behind Borja, while Martin Kreil completed the top 3 followed by Alberto Cano and Cyril Baldini. A2 saw an awesome battle between Hupo and Borja, who swapped positions throughout the whole race, with Borja able to open up a little gap at the end. A crash in the last lap put Hupo down to 3rd, while 2nd went to Cyril Baldini in front of Alberto Cano and Miguel Santos. Despite already taking the overall, Borja decided to race the last main and he and Hupo put on another great show for the crowds. This time the Austrian won without much troubles, 2nd place went to Borja and third to Alberto Cano, showing his speed running so close to the winners.
Final results
1. Borja Hernandez
2. Hupo Hönigl
3. Cyril Baldini
4. Alberto Cano
5. Martin Kreil
6. Miguel Santos
7. David Bustos
8. Javier Agüero
9. Francis Heuga
10. Miguel Koide
Thanks to Pablo Olea for the report.
---