June 1, 2009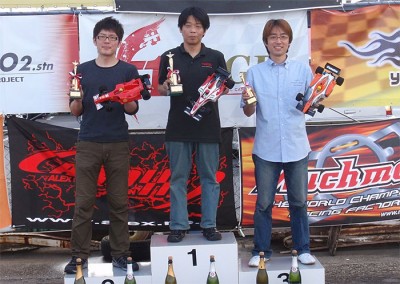 The 5th round of the F1RCGP Championship was held recently at Pit In Stadium in Chiba. This round attracted Masayuki Mimura (former 1/8 GP national champion) from Hot Bodies with the brand new HPI Formula 10.The track being used was designed by RC legend Masami Hirosaka and father Masaaki. With no exceptions just as in round 1 and 3 the race started under heavy rain condition and drivers started to try different tires like glue spreaded sponge tires, rubber tires and tamiya tube tires. Apparently most of the drivers got experience from the previous round as most of the cars ran pretty well under rain condition and the biggest issue seemed to be how to avoid water getting into your radio. The first casualty was David Tse running in the F1 class who was in a different league on a 17lap pace but stopped in lap10 with radio failure. All the heats finished under rain condition and Yoshitsugu Takahashi took pole position for the F1 class, while for F1GP class championship leader Hiroshi Kamibayashi (Alex Racing) led the first round with a 19 laps record and eventually took the pole position.
Both Finals started under dry condition with all the cars starting with foam tires and some high speed battle were expected.
F1 GP Class:
Pole sitter Hiroshi Kamibayashi (Alex) go into the first corner followed by Takatoshi Morita (Futable F-1) and Sadaaki Yashima (Zen). The gap between Hiroshi Kamibayashi and Takatoshi Morita remain unchanged for a while and apparently Takatoshi Morita's car was understeering a bit and couldn't manage to put any pressure on the leader. Hiroshi Kamibayashi started pulling away from everyone while Kazuya Mizukoshi (Pit-In Racing) was having an impressive drive, starting to put pressure on Morita. Kazuya Mizukoshi eventually passed Takatoshi Morita with a minute left and finished 2nd to score his first points for his home track. Championship leader Hiroshi Kamibayashi took a lights to flag win, becoming the first driver to win 2 races in a row, with Takatoshi Morita finishing 3rd.
F1 GP Class results:
1. Hiroshi Kamibayashi (Alex Racing) Tamiya – Zen
2. Kazuya Mizukoshi (Pit-In Racing) Tamiya
3. Takatoshi Morita (Futable F-1 Racing) Tamiya – Yeah Racing
After 5 rounds of the 2009 F1 RCGP championship Alex racing leads the Constructor's Championship with 33 points, Rush in 2nd with 28 points and Futable F-1 Racing in 3rd with 25 points. Hiroshi Kamibayashi (Alex Racing) is leading the Driver's Championship with 33 points followed by Shinya Kimura (Futable F-1 Racing) with 10 points and Mamoru Ishikawa (Rush) with 18 points.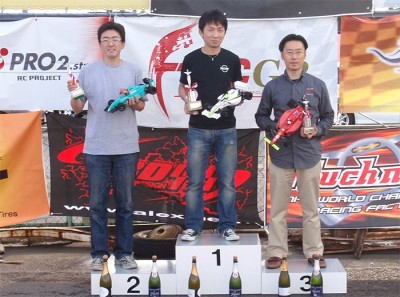 F1 Class:
David Tse starting from 3rd jumped up to 2nd but pole sitter Yoshitsugu Takahashi closed the door causing both drivers to drop to the back of the order. Shinya Sakurao led the race followed by Atsushi Nakayama and Ito who started from 9th. This formation continued for about 10 laps and David Tse fought back from last position was already on Ito's tail. The nose to tail battle between Seiji Ito and David Tse lasted for a few laps and David Tse sensationally got passed both Seiji Ito and Atsushi Nakayama at the same corner to take the lead and win his debut race.
F1 Class results:
1. David Tse (Tamiya-Yeah Racing)
2. Shinya Sakurao (Tamiya-Zen)
3. Seiji Ito (Tamiya)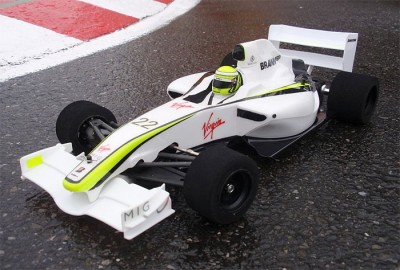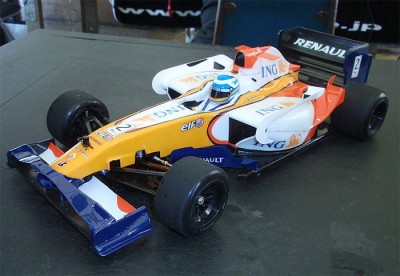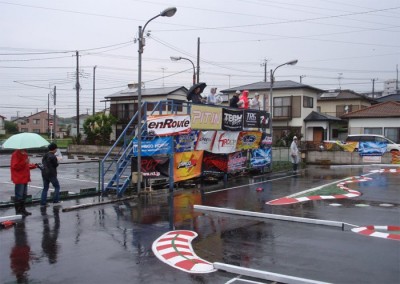 Source: F1 RCGP [www2.odn.ne.jp]
---