June 10, 2009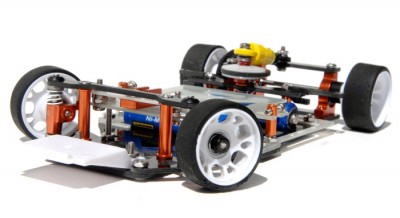 Greyscale Racing have released their new 1/28 competition pan chassis, the MRCG1.1. The MRCG1.1 is the highly-anticipated successor to the original MRCG, a car that helped revolutionize the 1/28 racing scene. Built on the same proven layout as the original car, the 1.1 features a 1.5mm woven graphite chassis, geometry updates throughout the car and a refined version of the original Virtual centre Pivot rear suspension that makes the car even stronger, faster, and easier to drive and tune.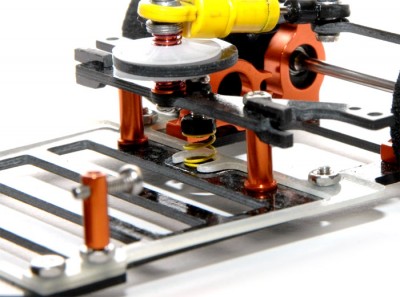 The highlight of a pan car like the MRCG1.1 is the rear suspension. With a new wraparound flex plate design and new rear steer spacers, the Virtual centre Pivot V2 rear suspension is more durable and creates even more corner speed than the original. New mounting locations for side springs allow screw-turn tweak adjustment, and a revised oil damper mounting system makes maintenance a breeze.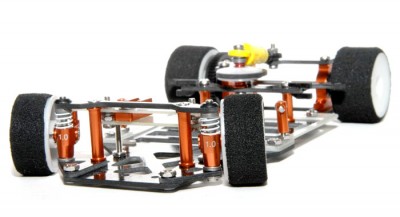 The front end features new triangulated A-arms and 2 degrees of caster for quicker, smoother steering. The top brace makes adjustments easy: removing it allows spring, preload, droop and camber adjustments all without removing the kingpin. The unique steering rack, carried over from the original MRCG, features optimized Ackerman, and can be shifted fore and aft to adjust front toe.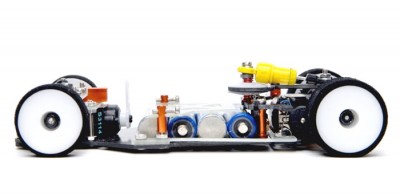 Despite its size, the MRCG1.1 is every bit a serious racing chassis. Only the highest quality woven graphite, FRP, and 6061 aluminium alloy are used in its construction. The battery pack is located at the dead centre of the chassis for a perfect weight distribution. The chassis' weight, CG, and polar moment of inertia have been lowered to the absolute limit, resulting in a car that corners flatter and changes directions faster than any other 1/28 on the market.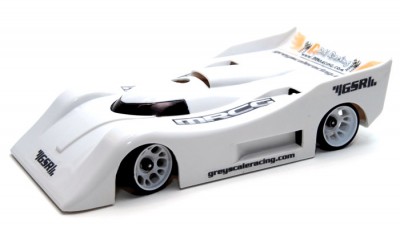 Like its predecessor, the MRCG1.1 features true compatibility with all Mini-Z MR-02 bodies, Kyosho Auto Scale or otherwise. The car uses the same 4 AAA cells and 130-can motor as a Mini-Z, but is compatible with both Mini-Z electronics or aftermarket modular electronics.
The MRCG1.1 is Greyscale Racing's new ultimate 1/28 pan chassis: with race-proven design, a highly adjustable suspension, and an abundance of useful and unique features, it sets a higher standard for pan cars in an increasingly competitive 1/28 racing scene.
Feature list:
– Built on the race-proven Mini-Z MR-02 platform; uses many MR-02 parts
– Version 2 of our trademark Virtual centre Pivot rear suspension
– Tools-free quick-release battery system designed for endurance racing
– Ultra-low centre of gravity and polar moment of inertia
– 15% weight reduction over MR-02
– 1.5mm quasi-isotropic woven graphite chassis
– 0.8mm FRP flex plates and small chassis parts
– 6061 aluminium alloy used throughout; brilliant orange anodized finish
– Sliding, 1-piece motor mount allows easy gear mesh adjustment
– Unique tierod steering system with optimized Ackerman
– Fully adjustable suspension: spring rate, anti-roll, damping, preload, droop, ride height, roll centre, rear steer, camber and toe
– 94-100mm adjustable wheelbase
– Compatible with Mini-Z MR-02 bodies and polycarbonate bodies
Source: Greyscale Racing [greyscaleracing.com]
---