June 8, 2009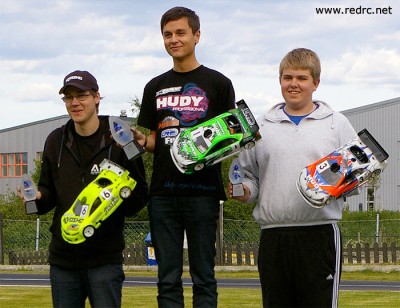 The Nordic Championships were held last weekend at the beautiful Väst-8 facility in Gothenburg, Sweden. Perfect conditions in qualifying saw Alexander Hagberg take an impressive TQ in 1:10 by 4 seconds with his Max powered Xray NT1, while in 1:8 qualifying it was Swedish Mugen driver Mikael Fransson just in front of Danish ace Martin Christensen with his Shepherd/Capricorn combo.
The 1:10 final was run on a wet track for the first 20 minutes. It was Alexander Hagberg who made the most out of these conditions, gaining a massive 5 lap lead after the first 10 minutes, proving to have chosen the right wet tire for this particular surface. When the track started to dry it was time for a tyre change, which would cost Hagberg 3 laps but he kept his head cool and cruised to victory in the 45 minute long main. After a lot of drama and issues for the other drivers especially from the rain it was Kyosho driver Magnus Vässmar who made his way up to the runner-up spot from 6th. The 3rd spot was captured by Norwegian Adrian Berntsen who showed a fast pace on the dry track. 4th qualifier Martin Christensen was out by the 15 minute mark.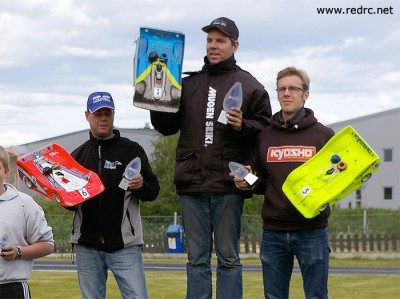 The 1:8 final started out dry but eventually would turn into a full-on wet race where rain tires were necessary. In the end only 6 drivers finished and it was the top qualifier Mikael Fransson who was the fastest and most consistent driver in the rainy conditions. He took the win over Serpent driver Bengt Andersson and the local Kyosho racer Marcus Lindner.
Final results 1:10
1. Alexander Hagberg – 149 laps
2. Magnus Vässmar – 146 laps
3. Adrian Berntsen – 142 laps
4. Bengt Andersson – 139 laps
5. Tom Erik Haaversen – 139 laps
6. Frank Andersen – 139 laps
7. Mikael Fransson – 125 laps
8. Mickael Brandt – 117 laps
9. Per-Ola Hård – 114 laps
10.Martin Christensen – 34 laps
Final results 1:8
1. Mikael Fransson – 121 laps
2. Bengt Andersson – 118 laps
3. Marcus Lindner – 115 laps
4. Martin Andersson – 110 laps
5. Patrik Johansson – 109 laps
6. Stefan Andersson – 105 laps
7. Martin Christensen – 58 laps
8. Adrian Berntsen – 49 laps
9. Patrick Sahlin – 36 laps
10.Stig Berntsen – 30 laps
Thanks to Alexander Hagberg for the report.
---