June 9, 2009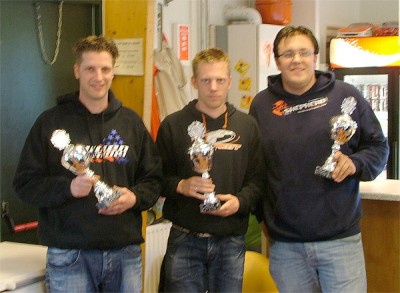 Last weekend saw the 3rd round of the Dutch 1/8th scale Nationals run at the MACH in Heemstede. Every Dutch national held on this track for the last 3 years were in wet conditions and this time around the weather forecast predicted the same again for Sunday. The forecast seemed to have been wrong and the day started with nice weather running all 3 rounds of heats in dry conditions. In the NK it was Rick V taking pole followed by Jordy Blok, John Ermen and the last direct finalist was new Shepherd driver Rik Veenma. In the NOMAC it was Gunther van Staey taking the pole followed by Steven Cuypers, Richard Keur and Nico Boeren.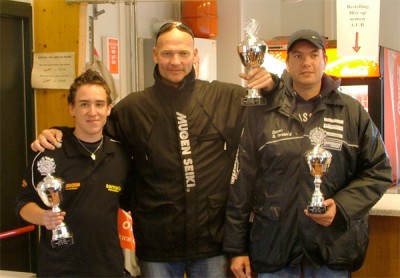 During the sub finals it became more cloudy and the satellite pictures forecasting rain for the end of the afternoon. The 1st main final was driven by the NOMAC group still in dry conditions. Before the start there was a interference so there was a frequency check, sadly by shutting of his transmitter the servo's of Jeroen Janken suddenly burned out and could not start. During the final there were several drivers dropping out, pole man Gunther van Staey crashed his car into another stationary car on the straight ending his race. At the end it was Richard Keur that took the win followed by Remo Franssen and Sander Tersteeg.
The last final of the day was for the NK drivers who had to deal with rain that was slowly starting. Most drivers began the race on a soft or Aqua tire and because of the slippery track there were lots of changes at the front of the field. John Ermen, RickV and then it was Ilia v. Gastel taking the lead for a while. When the rain really started coming down several drivers had to retire because of water in their electronics or bad running engines. Ilia was still in the lead until his car went off in a straight line out of control and had to retire as well. Jordy was just cruising on the track taking over the lead and making a gap of several laps. At the end he crossed the finish line first followed by RickV who just managed to take over 2nd place from Michiel Renting.
Thanks to Roelof Tooms for the report.
---