June 9, 2009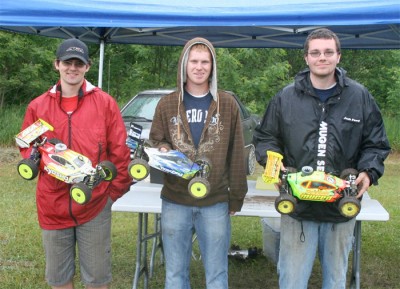 The 3rd Annual Reedsburg Rumble, an event that brings the top racers from throughout Wisconsin and surrounding areas took place this past weekend under extremely cloudy and rainy conditions. Mother nature played her part in the Rumble this weekend teasing us Friday with picture perfect weather only to take it away and replace it with clouds, cold and light rain all day. Even though the forecast called for rain all day Saturday almost 100 drivers showed up for the annual event. Due to the forecast of heavy rain for the day, we started the day very early with a 9am start time, this early start was the key to us getting 99% of the event in. As the day progressed, a light drizzle fell on us for most of the day which made for a bit of a cold atmosphere but it actually worked to the racers benefit as the track was the absolute best you could hope for. Not muddy at all, just damp and full of traction.
We had 5 class, Short Course Truck, Intermediate Truggy and Buggy and Expert Truggy and Buggy. Qualifying went well and we were able to get all the races in with the exception of Expert Buggy. When it was time for their 30min final, the rain had increased and it was decided that the conditions were unsafe for the marshals on the track so the Expert division final was canceled and winners were decided via qualifying order. I would like to congratulate all the winners in all our classes and thank the Reedsburg Club for another great facility and look forward to our next event we can hold with them. Here is the list of the winners of all the classes.
Int. Buggy : Mike Fisk
Int. Truggy: Jeff Mann
Short Course Truck: Nick Achterkirch
Expert Truggy: Brad Sherer
Expert Buggy: Awarded via qualifying order.
1. Josh Stough (TQ) – Team Losi
2. Josh Ford – Mugen
3. Kendall Welch – Kyosho
Report by Scotty Ernst.
---