June 16, 2009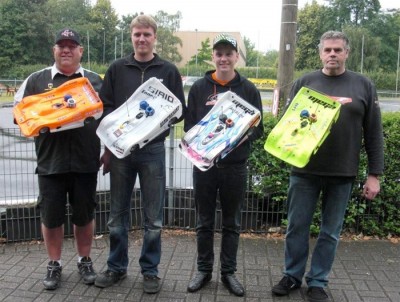 What a pity! Once again rain hampered the racing action of the Western German Championship I.C. 1/8 – for the fourth time in a row. Practice for the sixth and last round of the Western German Championship was held in Oberhausen under the best possible conditions with blue sky and temperatures around 25 degrees. On Sunday first clouds welcomed the racers and after round three of the heats it started to rain and didn't stop for the rest of the day. In a drivers meeting it was decided not to continue this disappointing race day and to count the race following the heats order.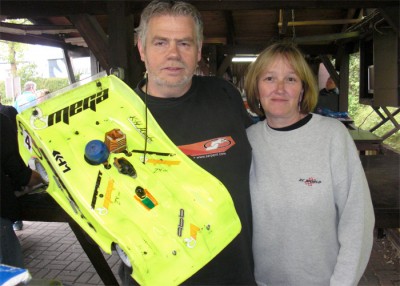 So it was old-hand Karl-Heinz Meister who took the winner's honour. "Mister KHM power" set the pole position in an impressive style with his Mega-powered Serpent 966 flying around the 234 meter track 25 times in five minutes. Beside him only Serpent fellow and young gun Tobias Hepp as well as Mugen racer Steven Cuypers and Uwe Baldes were able to complete 25 laps but couldn't beat the time of Karl-Heinz Meister. On the Oberhausen track, one of the oldest but still one of the most beautiful RC arena in Germany, Tobias Hepp set the fastest lap time by 11,82 seconds followed by Uwe Baldes (11,88), who led the time sheet with his Team Orion powered Motonica P81 during practice with the same lap time on Saturday.
Statistics of the top ten: Five Serpent were met by three Motonica and two Mugen chassis, four Mega engines by three Novarossi, two Sirio and one Team Orion. Six drivers used Xceed tyres and one of each Cosmic, Enetti, Matrix and RPM.
Result: The top ten of class 1
1. Karl-Heinz Meister – Serpent / Mega / Xceed
2. Tobias Hepp – Serpent / Mega / Xceed
3. Steven Cupyers – Mugen / Sirio / Enetti
4. Uwe Baldes – Motonica / Team Orion / Xceed
5. Alain Levy – Serpent / Novarossi / Xceed
6. Joerg Baldes – Motonica / Mega / Cosmic
7. Ralf Vahrenkamp – Serpent / Novarossi / Xceed
8. Christian Wurst – Motonica / Sirio / Matrix
9. Frank Schewiola – Serpent / Mega / Xceed
10. Rainer Rosskothen – Mugen / Novarossi / RPM
In class two once again it was Mugen driver Dirk Drechsler who set the pace. He did 24 laps and took TQ by one lap over young Jean-Pierre Roenicke (Kyosho). Ralf Wacker (Serpent) took third position ahead of Udo Tappertzhofen (Kyosho) and Arno Puepke (Mugen).
Further more a so called friendship race for the 1/10 nitro class was held at Oberhausen where "oldie but goodie" Werner Vogel led the pack with his Kyosho.
---