June 9, 2009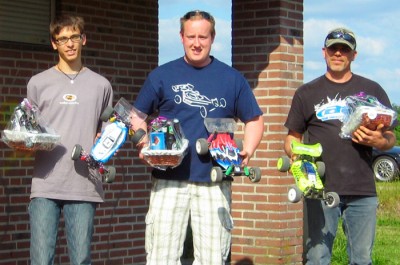 The 3rd round of the combined Belgium / Dutch championship was held on recently on the clay track of MAC Vlijmen in the Netherlands. In 4WD it was Stefan Mesker who took home the trophy with his X5 Squared, closely followed by touring car ace Nick Joosens, who is really getting more and more used to driving his CAT over the jumps and bumps of the off-road tracks he now faces. Local hero Tom van Drunen took home a well deserved 3rd place with his B44.
4wd Results
1. Stefan Mesker – X5 Squared (NL) [0-1-1]
2. Nick Joosens – CAT (B) [1-2-2]
3. Tom van Drunen – B44 (NL) [2-6-3]
4. Bart van Echelpoel – Predator (B) [9-3-4]
5. Wesley van Helmond – XXX4 (NL) [4-10-5]
6. Stephane Peeters – Cat (B) [3-9-7]
7. Michael Somerwil – Cat (NL) [6-4-9]
8. Frederic Munoz – AC (B ) [5-7-10]
9. Ronald Jostema – B44 (NL) [8-5-8]
10.Luc de Weerd – B44 (B) [7-8-6]
2WD was dominated all day by Bruno Heremans, he was the fastest man in qualifying and due to the skirmishes behind him in the mains he didn't have to go all out to take home a well deserved win at the track of Vlijmen. Behind him there was an epic fight for the rest of the podium between Wouter Wynen, Simon Bettens and Arjan van de Graaf. In the end it was Wouter Wynen who was able to take home 2nd. Points leader Stefan Mesker had various problems throughout the day and was lucky to get away with a 6th place.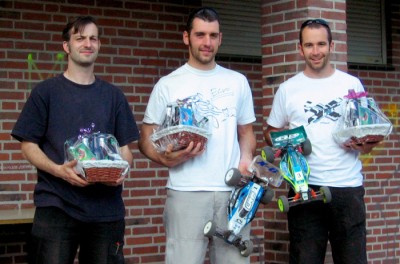 2wd Results
1. Bruno Heremans – X6 Squared (B) [1-1-1]
2. Wouter Wijnen – B4 (B) [2-4-2]
3. Arjan van de Graaf – X6 Squared (NL) [3-2-4]
4. Simon Bettens – B4 (B) [5-3-3]
5. Tom Raymakers – B4 (NL) [4-5-9]
6. Stefan Mesker – X6 Squared (NL) [10-7-5]
7. Tom van Echelpoel – X6 Squared (B) [8-6-6]
8. Frederic van Eylen – X6 (B) [6-10-7]
9. Jan Beks – B4 (NL) [7-9-8]
10.Erik Michiels – B4 (B) [9-8-10]
Source: RC-Offroad [rc-offroad.be]
---