June 22, 2009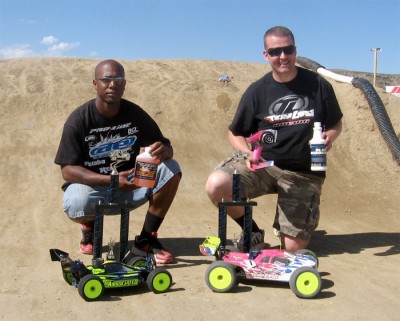 This weekend saw the ROAR Region 10 Championships run at Colorado Fast Track in Colorado Springs, Colorado. Racers from around the Region came to compete for the championship and it was Team Losi's Lars Johnson who was on early form to defend his Regional titles from 2008 in the Pro Buggy and Pro Truggy classes, TQ'ing the first couple rounds in both classes. Round 3 saw Team Associated driver Adrian Redding grab TQ with his new RC8B and with a shortened schedule due to rain on Saturday, Lars would be top qualifier for both pro classes. The 45 minute Buggy Main would prove to be very tough with temperatures in the 90's and track getting bumpy and hard to navigate through. The start of the main was not what Lars had in mind, a costly mistake over the first double had him getting bounced around with the back of the grid. While making a charge back to the front of the race he would have mechanical problems ending his chance of challenging for the win. This would allow Adrian Redding to get the distance he needed over the rest of the racers and cross the finish line first.
The Pro Truggy race was a treat to watch for the 45 minute race. Team Mugen Driver Vincent Ringler was determined to make a statement going into the main event. He would TQ the final round of qualifying giving Lars something to think about heading into the main event. The start again proved not to be any advantage for Lars (TQ), having the same problem on the same 1st double. He would go to the back of the pack and have to make a charge to the front. This would allow Mike Cartwright from Utah to get the holeshot to start the race with Vincent Ringler in the 2nd spot. The race had Mike, Vincent, and Lars swapping spots over the first 30 minutes of the race when mechanical problems would end Mike's day. This would leave the next 15 minutes for Lars and Vincent to battle to the end. In the end a couple mistakes by a hard charging Vincent would give Lars a successful consecutive championship in Pro Truggy class.
Pro Buggy
1. Adrian Redding – AE / Reedy / Byrons
2. Mike Cartwright – Losi / Orion / Nitrotane
3. Addy Musaefendic – Xray / OS/ Byrons
Pro Truggy
1. Lars Johnson – Losi / Dynamite / Blue Thunder
2. Vincent Ringler – Mugen / Ninja / Mugen
3. Josh Salz – Mugen / OS / Byrons
Thanks to Adrian Redding for the report.
---