June 8, 2009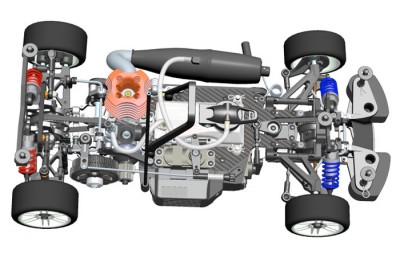 Having taken the first photos of the car last weekend at the Bumod GP in Turkey, Serpent have released CAD images and details about their new 1/10th scale 200mm, given the name 733. To cope with the growing amounts of horsepower and to translate that to superb grip on the tarmac, the car is a completely new design, carrying very few parts across from the current 720 series. It performed well on its race debut, with some bad luck for Jilles Groskamp denying a certain TQ and taking him out of a leading position in the main final. Expected for release in July, there will be a limited run in time for drivers competing at the European Championships in Gubbio, Italy.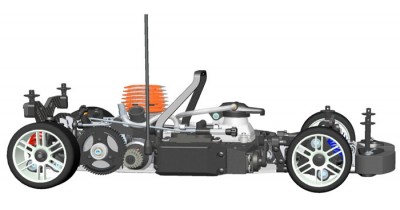 Main features
– New geometry and roll-centres, lower center of gravity and modified weight-positioning for improved grip and better balance.
– Adjustable caster, camber, toe-in, width, wheelbase front and rear, ride-height, roll centers and more.
– Alu front lower bearing blocks and suspension brackets, with integrated anti-roll bar holders and integrated alu middle bearing block
– Ball-raced wire type front anti-roll bar system, more efficient and easier to tweak
– New servo-saver design, mounted on the chassis only, with new and easy to mount linkages, options to change Ackermann
– Split type rear end assembly, with alu holders for 2-speed/brake (from 966) and integrated anti-roll bar holders, and also split type rear alu bearing blocks combined with alu suspension brackets for easy differential access.
– New, very accessible brake system, with large ventilated disks, lower in the car, with ready to use race brake-pads
– New nylon suspension parts / wishbones front and rear
– New rear uprights and keeping the latest 720 steering blocks, both combined with the lightweight alu pivot balls and nylon ball-cups.
– Very thick and strong carbon shock-towers front and rear with a variety of positions.
– High quality steel parts, stainless steel high speed bearings, Allen type steel screws throughout the car
– Race proven Centax clutch (a Serpent innovation) combined with the reliable LC 2-speed gearbox
– New gear-ratio combined with new pulleys with small side holes to let dirt out and new drive-belts.
– RCCX shocks-sets with 2009 modification on rod-support and x-ring.
– New light-weight gear-differential, mounted lower in the car, same diff front and rear, just pulley is different. Combined with light-weight drive-cups, CVD's in the front and drive shafts in the rear
– 3mm chassis plate 7075 T6 with closed type design, combined with U-shaped motor mount which can remain on the engine. This mount, then goes on top of the new alu chassis stiffener. Perfectly positioned. This stiffener has arms to the front and back to influence flex, depending with how many chassis-screws its fastened.
– new low 75cc fuel tank with AFL-cap more to the front and mounting-position for AMB transponder on the bottom
– carbon fibre radio plate assembly unit contains fuel-tank, belt-tensioner, both servo's, receiver box, battery/holder (accepts normal and Lipo-pack), transponder-holder all as one easy to take out sub-assembly. Ideal for easy cleaning and access. All wiring very short and compact to mount. Nice straight servo-linking to brake and throttle levers.
– New asymmetric roll bar with integrated sleeve for the fuel-cap strap, roll bar doubles also as end-stop for the fuel-cap.
– Full color manual/ref-guide and nice logo-decals and a new design small exclusive packing box.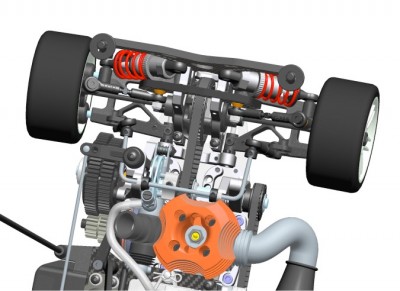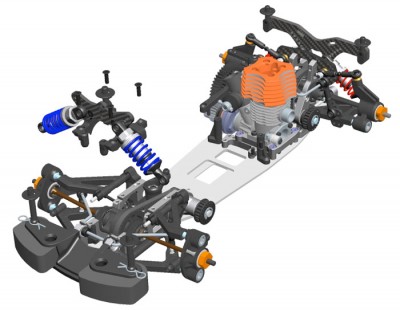 Source: Serpent [serpent.com]
---