July 7, 2009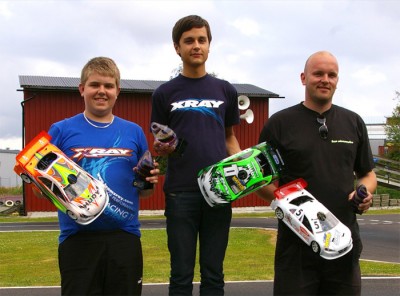 Last weekend, the Swedish EFRA GP was held at the Väst-8 facility in Gothenburg, host of the 2010 EC in 1:10 IC. The race saw drivers from Sweden, Norway and Denmark in attendance and was run under perfect conditions except for some clouds on the final day. The practice started already on Friday with the majority of the 33 entered drivers present at the track.
Throughout qualifying it was Xray driver Alexander Hagberg who set the pace in front of Adrian Berntsen from Norway. Although he had a DNF in the rocket round on Saturday afternoon, Hagberg still managed to TQ with 0.5 seconds in front of Adrian. Third was Kyosho driver Magnus Vässmar and 4th Mikael Fransson with a Mugen car.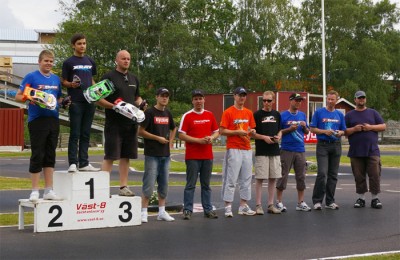 The final started out with a slow start from Hagberg which let Adrian Berntsen into the lead, but this would only last for two laps, until Hagberg took back the position and started to pull away. By the 3rd refueling Hagberg had lapped the entire field and he kept this quick pace throughout the entire final and could finish 1st, 2 laps up on 2nd placed Adrian Berntsen who was battling with 3rd placed Helge Johannesen and 4th placed Magnus Vässmar. Alexander Hagberg drove a perfect race and would not only set the quickest laptimes, but the quickest fuel stops as well which was a result of great team work.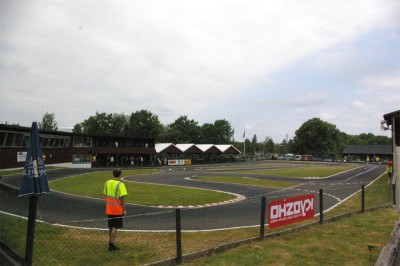 Final Results
1. Alexander Hagberg – Xray/Max
2. Adrian Berntsen Røseth – Xray/Max
3. Helge Johannesen – Kyosho/Sirio
4. Magnus Vässmar – Kyosho/Orion
5. Mikael Fransson – Mugen/JP
6. Mickael Brandt – Xray/Sirio
7. Per-Ola Hård – Serpent/RB
8. Bengt Andersson – Xray/Sirio
9. Frank Andersen – Xray/Max
10. Georg Ellingsen – Xray/Max
Thanks to Alexander Hagberg for the report.
---