July 25, 2009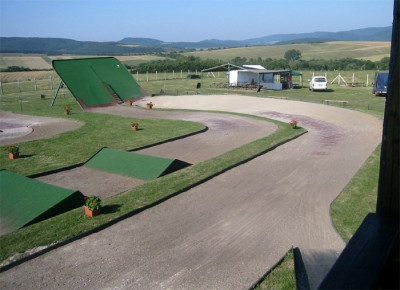 Follow the long winding road about 1 hour outside of Budapest and it will lead you to a very small village at the base of the mountains named Bokor. Home only to a small cheese factory and about 120 residents, it is the smallest dot on the map, but it is the home to a wonderful race track. Overlooking this small town is the beautiful track of Bokor. The pride of organizer and track owner Laszlo Szebelledi, the track is located on family land that he and his crew have transitioned to a beautiful facility. Laszlo has spared no expense to organize an amazing event that takes care of a racers every wish which includes free bottled water and ice tea to all the racers and mechanics along with the opportunity to take a ride in an actually Dakar Rally vehicle. Laszlo had arranged for the Dakar Hungry team to bring their Opel Vehicle here for the event and everyone has the opportunity to go for a ride in the Bokor countryside for a thrilling rally ride.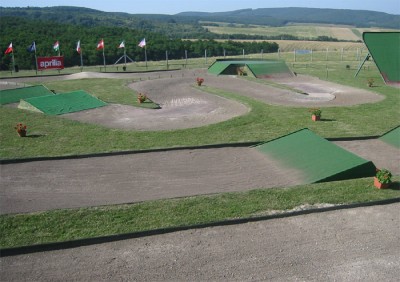 In its 3rd year the Bokor cup has drawn racers from Hungary, Germany and the Czech Republic. Beautiful weather greeted us today for the first day of the event where we ran practice and our first round of qualifications. Notable names in attendance for this years event are 2009 Euro podium finisher Martin Bayer from the Czech Republic along with his brother Ales and Jorn Neuman from Germany along with Carsten Keller and Oliver Simon also from Germany.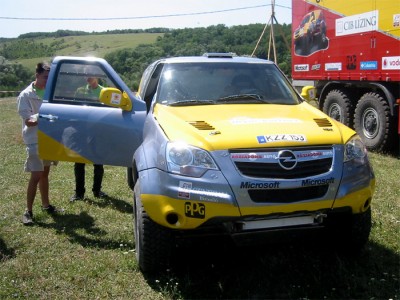 Podium finishers for this event have the chance to win prizes that you could only dream about. Aprilia is the title sponsor of the Bokor Cup, they are one of the leading makers of Scooters and they will award an Aprilia Scooter to the winner of the A final. 2nd and 3rd place get great awards also. How about 1500 Euros for 2nd and 1000 Euros to 3rd! What an amazing prize pool to make the podium at this event.
With the first round of qualifying in the books, It was European A finalist Martin Bayer who was on the top of the list.
Here are your top 5
1. Martin Bayer – 8 laps in 5:02.630.
2. Jorn Neumann – 8 laps in 5:09.709
3. Ales Bayer – 8 laps in 5:21.192
4. Carsten Keller – 8 laps in 5:21.193
5. Rene Kargl – 8 laps in 5:23.272
Saturday we run 5 rounds of qualifications but weather is forecasted to change from the beautiful blue sky we saw today to high winds and heavy rains overnight.
Until tomorrow – Scotty Ernst.
---