July 6, 2009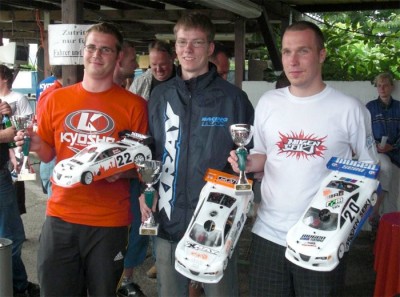 Xray team driver Frederik Suedhoff, crowned as the 2009 European Champion (B) early May, has taken the win when leading the pack at round four of the 2009 Western German Championship 1/10 scale nitro on-road in Bad Breisig in the south of the former capital Bonn. The podium was completed by Kyosho driver Bernd Rausch on second and Mugen racer Sebastian Buerge on third. Following an excellent practice session on Saturday race day started with sad news. In the drivers briefing race director Holger Schluss informed the total of 41 competitors that Dieter Weck, the nitro on-road chairman of the German rc racing association DMC, had passed away during the night because of a heart attack. In a minute of silence the RC community commemorated Dieter Weck who was a man in action and racer with all his heart.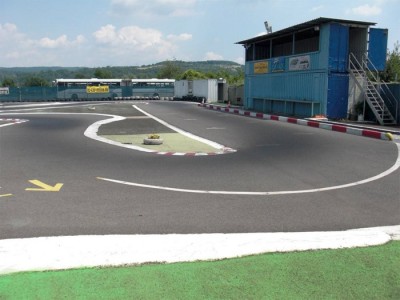 Frederik Suedhoff, during practise supported by team fellow Dirk Wischnewski, dominated practice and the heats at discretion. With his Orcan-powered NT1 he was the only one to do 19 laps. He led the ranking ahead of guest driver Patrick Gassauer (Kyosho), who joined the finale from eleventh position outside the official classification, Sebastian Buerge, Frederico Veronesi with his Serpent 720 and Bernd Rausch with his Team Orion powered Kyosho.
From the 15 minutes quarter finals Jens Peters, Thomas Dietz, Dirk Zschäbitz, Licien Zens, Peter Bialowons and Marvin Straube bumped up into the semi finales. The 20 minutes semi finales created tough racing for the last spots in the finale. The semi finale B was won by Daniel Thiele (Mugen) in front of Joerg Baldes (Xray), but also Wolfgang Feldges (Kyosho) and Lucien Zens (Serpent) cought a bump-up position. In the semi finale A Dieter Fleischer (Kyosho) took the win ahead of Uwe Baldes (Xray). E.C. finalist René Puepke, winner of round one at Oberhausen, didn´t make it because of engine trouble as well as Andreas Janz (Kyosho), who was leading for a while when his second gear broke and he lost valuable time.
The 30 minutes finale was a battle between Suedhoff and Rausch. No doubt, Suedhoff was faster (fastest lap 16,1 secons), but the question was who was loosing less time at several engine cut-offs. After 105 laps Suedhoff had a one lap gap ahead of Rausch with Buerge, winner of round two at Dormagen, another lap down as well as Veronesi coming in on fourth.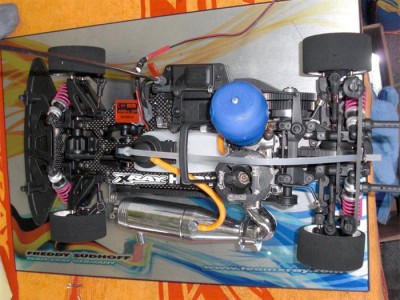 Statistics of the finale: Three Xray and three Kyosho were joined by two Mugen and two Serpent. Also on engines and tyres it was well mixed: each two Orcan, Team Orion, OS and R&B as well as each one Novarossi and Mega engines. The tyre ranking is led by GP with three cars followed by each two for Matrix and Xceed and each one for RPM, Enetti and Orcan.
The top 10 result:
1. Frederik Suedhoff, 105 laps (TQ) – Xray / Orcan / GP
2. Bernd Rausch, 104 – Koyosho / Team Orion / Matrix
3. Sebastian Buerge, 103 – Mugen / R&B / GP
4. Frederico Veronesi, 103 – Serpent / OS / Xeed
5. Daniel Thiele, 102 – Mugen / Novarossi / RPM
6. Joerg Baldes, 101 – Xray / Orcan / GP
7. Dieter Fleischer, 100 – Kyosho / R&B / Enetti
8. Uwe Baldes, 97 – Xray / Team Orion / Orcan
9. Wolfgang Feldges, 96 – Kyosho / OS / Matrix
10. Lucien Zens, 76 – Serpent / Mega / Xceed
In the 1/10 scale standard class Maro Nenner took TQ and won ahead of Andreas Palitza and Frank Jelenowski.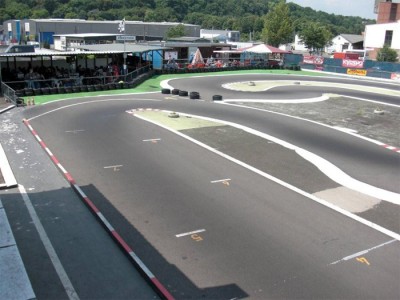 The organising MCC Rhein-Ahr offered a perfect race weekend on his challenging track and has already established among the best organisers in Western Germany looking forward to held two German Nationals (1/5, Pro10) in August.
---