July 11, 2009
v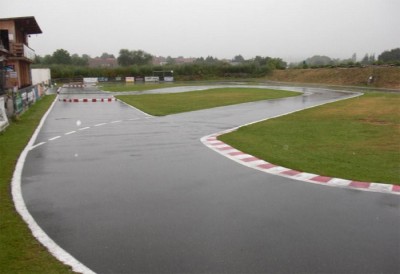 After three days the German Nationals 2008/2009 (1/8 on-road) are still a rainy affair. Following the rainy weather at the first day of unofficial practice on Wednesday the weather continued to be contrary but with more dry periods on Thursday. Nearly all of the 88 competitors were present and tried to catch any single lap on the challenging 260 meter track of the AMC Hildesheim located south of Hanover. Weather turned to the worse on Friday, the first official day of the one event decision for the German 1/8 crown.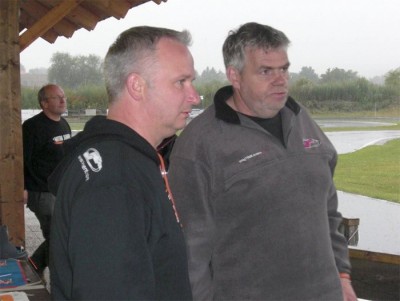 Different to the forecast the track was dry in the morning with only some short showers before lunch time. When the first of three timed practise sessions of the ten groups started at 2 p.m. it did not take long when it turned into steady rain. Also it was windy and coolish with temperatures around 15 degrees Celsius.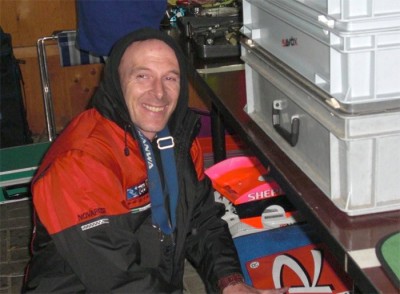 Unfortunately only a few groups were able to run on a dry track. So the ranking is not complete and by far without any informative value. Just for the books: Andreas Hammerl managed to do a 21-lap heat and led the result sheet of class 1, in class 2 it was Maximilian Vogt also with 21 laps to top the ranking. The fastest lap was registered for Eric Dankel with 13,6 seconds, 0,6 seconds down the official lap record.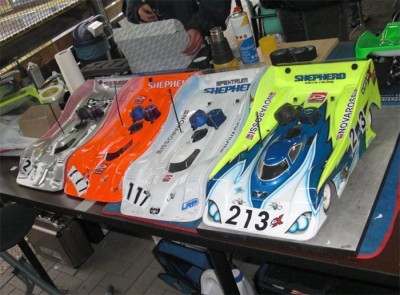 The forecast for the next two determining days indicates that rain might accompany the German Nationals until the end. On Saturday when four rounds of heats are scheduled it is expected to be dry until midday. So maybe the racers will be able to run two heats on a dry circuit. So far no favourites could show up but with the rain causing limited track time the chances of drivers with lots of experience on this track are increasing.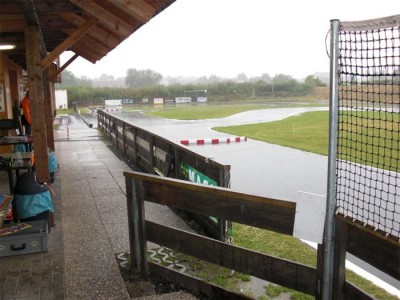 So far the whims of weather could not degrade the atmosphere. Most of the drivers enjoyed the Friday evening at the organisers buffet in a tent.
---