July 2, 2009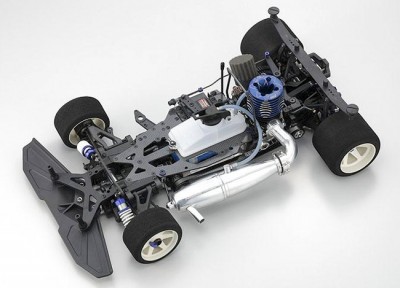 Kyosho have introduced the updated version of their Evolva M3 1/8th scale on road car, the M3 Evo. Featuring a whole host of small changes to improve upon their World Championship winning Evolva platform, the designers addressed some of the issues with the previous car to help increase durability, add more adjustability and improve performance. With a focus on the drive train, the car sports a new 2 speed transmission, gears & shaft as well as a new centre and rear bulkheads and new rear belt. The M3 Evo also has a new chassis plate for increased flex, new more rigid lower rear suspension arms and a new rear sway bar system and lots more little changes. Expect it to hit the market mid July in time for the World Championships.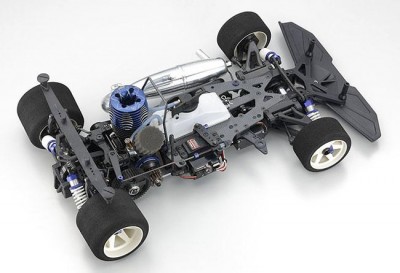 Features
– New 2 Speed Transmission – Newly designed 2 speed transmission allows the new M3 Evo to achieve ultra smooth shifting.
– Newly Designed Gears – The new M3 Evo comes equipped with newly designed transmission gears which helps for smother shifting.
– New Rear Pulley Design – Newly designed rear pulley allows for super efficient front and rear power ration, allowing more turning ability when on the throttle.
– New Center Bulk Head – The new center bulkhead has been modified to allow for greater clearance.
– New Rear Bulk Head – The rear bulk head has been redesigned to allow various engines to fit properly.
– New Rear Suspension Arm – Added material to the rear lower suspension arm for more rigidity.
– New Fuel Cap Design – New fuel cap design for superb fuel flow even at low fuel levels.
– New Chassis – New M3 chassis is now milled out for increased flex.
– Revised Rear Sway Bar and Arm – Revised rear sway bar and rear upper arm allows for efficient rear roll setup.
– Stand Up or Lay Down – Throttle servo can be installed in either stand up or lay down position right out of the box.
– New Rear Belt – New rear belt to accommodate for the new pulley set up.
– Re-Designed Main Shaft – Re-designed main 2 speed shaft.
– Adjustments – Adjustment range of front scrub increased from 1mm to 2mm. Allows precision setting for optimal steering characteristics.
– Acherman – Ackerman can be adjusted in five steps with servo saver to produce the optimal steering settings for different course conditions.
– Roll Center – Replacement of leaning cam allows front and rear wheel shaft height to be adjusted in three stages of plus or minus 0.5mm. Allows precision adjustment of roll center.
– Improve Steering – Rear hub supports the base of the rear body mount. Choose from four different lengths for improved steering response in the medium to high speed range.
– Adjustable Flex – Chassis rigidity can be adjusted by adding carbon plate (optional), carbon battery plate (optional) and side stiffener (optional) to the front of the main chassis.
– Acre Type Brake Pads – Acre-type brake pads and APP type rotors produce strong stopping power.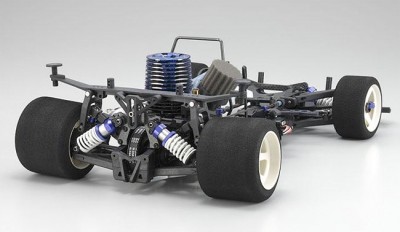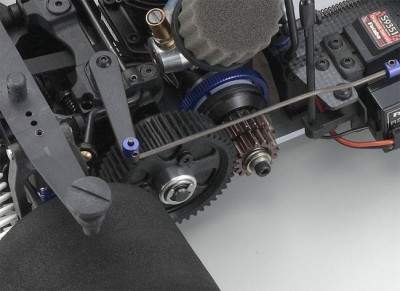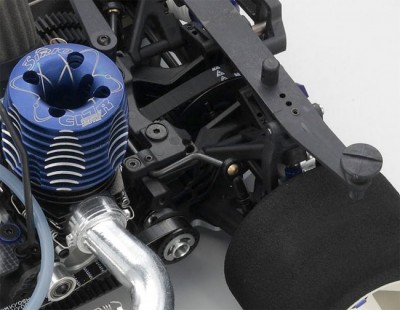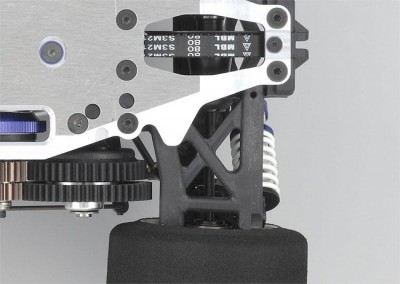 Source: Kyosho [kyoshoamerica.com]
---