July 7, 2009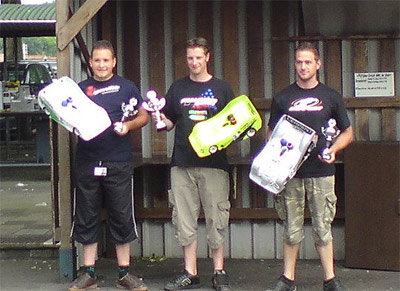 The 4th round of the Dutch championship was held on the very small and tricky circuit of MBC de Sluis in Gouda. The day started with nice weather, and although the forecast did predict rain it stayed dry the whole day. In the NK it was surprising to see Joey Sorber taking the pole folowed by John Ermen, Rick V and Ilia v. Gastel. In the main final it was John who was kicked out after 2 corners from the start trying to overtake Joey Sorber. Joey was strong in the lead but had to retire after 20 minutes. Rick V, driving the SM engine, took the lead after 7 laps and despite a tyre change at 15 minutes that allowed John Ermen into the lead, he would go on to take the win. In 2nd place it was John Ermen with a damaged car due some accidents on the track, while 3rd spot went to Rik Veenma who was racing a steady race.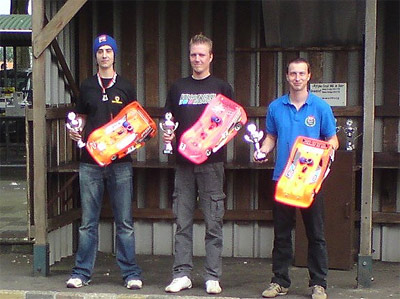 In the NOMAC it was a Belgian party. On pole it was Robin d'Hondt, who had some difficulties with the track during the training on Saturday, with Steven Cuypers in 2nd and Gunther v. Staey 3rd. Richard Keur took the final direct qualifying spot in 4th. In the final Steven took the lead, with Guther and Robin were fighting for the 2nd place and on the 4th place it was Daan Haling. Steven Cuypers eventually won folowed by Gunther v. Staey and Robin d'Hondt.
Thanks to Roelof Tooms for the report.
---