July 12, 2009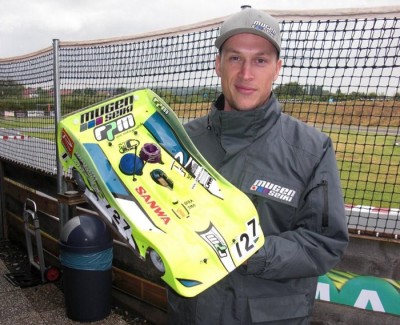 Mugen and Novarossi team driver Robert Pietsch has taken the pole position for the German 1/8 on-road Championship 2008/09 held this weekend on the 260 meter track of AMC Hildesheim south of Hanover. Beside the former champion, Motonica team driver Robin D´Hondt from Belgium as well as the Shepherd duo Eric Dankel and Patrick Schaefer completed the top 4 which are directly qualified for the 40 minutes final on Sunday afternoon. Like the three days before, rain also affected the day of qualification with five rounds of five minutes heats. Only the first round was run on a dry track and it started to rain before the last but one group of round two.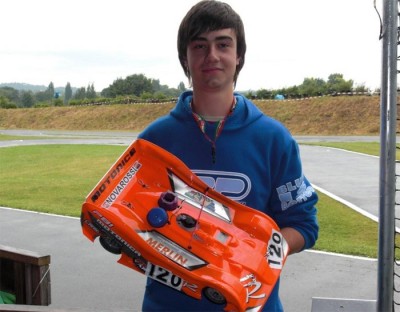 In round three several groups had to stop after a few laps when only a few rain drops came down but this was enough to let the cars spin around. Then the rain became more intense and only two drivers went out on the track in round four and only one in round five. In round four Manuel Dietrich (Serpent) was able to do twelve laps to hand over the "red lantern" to Steven Cuypers (Mugen) who had a bad day with only four laps in round one and only one lap in round two. The only guy who went out on the track in all five round was Oliver Mack. The Shepherd and Novarossi team driver had to stop in round one after 18 laps with a broken front shaft and was unlucky with the weather conditions and couldn't improve. His solo 13-lap run on a very wet track in round five was a special entertainment for the rc community which of cause was discontent about the weather conditions.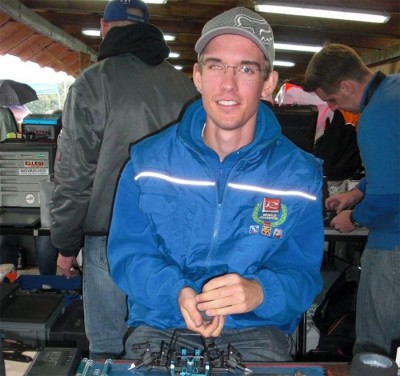 Well, there are several drivers out of the circle of favorites which struggled and are found far down the ranking list. In the eighth finals on early Sunday morning drivers like Steven Cuypers, Oliver Mack, Andreas Giesa (Serpent), Lars Hoppe (Shepherd) and Tobias Hepp (Serpent) will start and so they have to get up early. It might be big fun to see these guys and some other strong competitors to fight in an eighth final – and it will be a long and tough way for them into the final.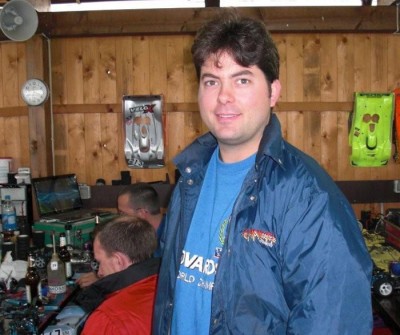 Robert Pietsch managed to do 23 laps in both rounds one and two with a best time of 5.12,376. This gave him a 1,2 second advantage over Robin D´Hondt (5.13,507) who put his Motonica P81 with a strong ride onto an unexpected second position. These two were the only drivers to complete 23 laps. With 22 laps in 5.00,323 Eric Dankel led the pack in front of his team boss Patrick Schaefer just 0,6 seconds behind. Interesting remark: Including Andreas Hammerl (Kyosho/5.03,454) the top 5 drivers are powered by Novarossi. Reigning champion Stefan Hanauer follows on sixth position with his Team Orion powered Kyosho (5.05,644). Sabrina Lechner (Serpent) has caught seventh spot in the ranking with Christian Wurst (Motonica) and E.C.(B) finalist Toni Gruber (Serpent) to complete the top 10. Michael Salven missed his chance because of a drivers error in round one but with eleventh place he found himself save in the semi finale.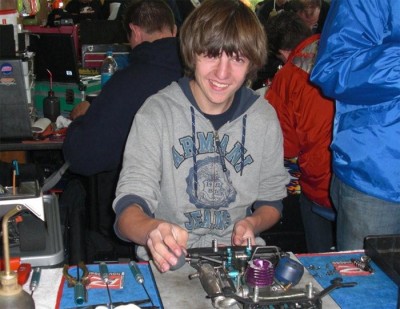 Pole position in class 2 with a total of 40 racers went to young Nicolai Baehr, son of former rc racing ace Juergen Baehr. With his Shepherd he did 22 laps in 5.03,071. Second spot of the grid was taken by Michael Paetz (Serpent/5.07,300) followed by Miximilian Vogl (Shepherd/5.11,731) and Thomas Ploeger (Serpent/5.13,120), a local hero of the organising AMC Hildesheim.
It should not be a surprise that the weather forecast for the finale Sunday isn´t good either. The sub-finals might start on a dry track but rain showers are predicted to arrive before the lunch break and to prevent spectacular rc racing once again on the fifth day in a row.
Race action at Hildesheim can be followed at the live timing stream here.
---