July 7, 2009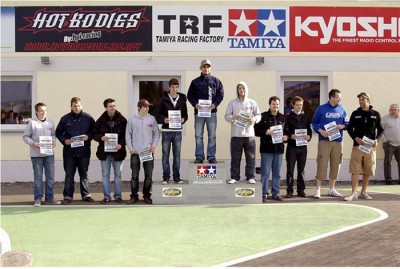 The first qualification round for the German Championship, middle and west division, was held at the Motodrom Raceway in Andernach last weekend. There were 57 racers entered for the race, with 17 in the Modified class including Marc and Toni Rheinard, Marc Fischer, Yannik Prümper and Steven Weis, and 40 in the Stock class. The conditions were very good for this race and following qualifying it was Team Xray driver Steven Weiss who won 3 of the 4 Heats to take the Pole Position in the Modified class. In the A final Steven Weiss continued his domination, taking two straight wins to take the overall win ahead of the Tamiya Driver Yannik Prümper and Corally Driver Marc Fischer.
A-Main Results
1. Steven Weiss – Xray
2. Yannik prümper – Tamiya
3. Marc Fischer – Corally
4. Toni Rheinard – Tamiya
5. Marcel Geiger – Xray
6. Jan Bohlen – Tamiya
7. David Ehrbar – Xray
8. Martin Kruse – Hot Bodies
9. Patrick Pasch – Corally
10. Pascal Schönrock – Hot Bodies
Thanks to Steven Weiss for the report.
---