August 9, 2009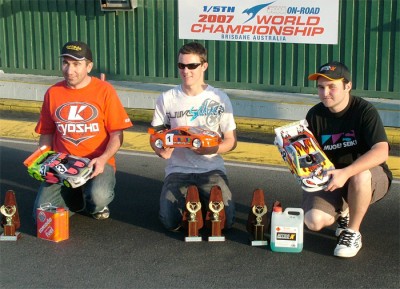 Queensland local driver Jason Dorn impressed all by winning both 200mm and 1:8 IC Queensland state titles at the England Park Raceway. With many competitors using these titles as another warmup for the Nationals later this year in Sydney the field was small but filled with quality drivers. 200mm top qualifier Dorn had a horror start and was bumped to last place from pole position at the start of the 30min final. Andrew Bardetta and Phil Woodbury lead the field while Dorn recovered ground and worked his way through the field. Andew Bardetta fell out of contention and Phil Woodbury took an excursion off field allowing Dorn through to take command of the lead and cross the finish line in first position.
1/10th scale 200mm results
1. Jason Dorn
2. Phil Woodbury
3. Andrew Baretta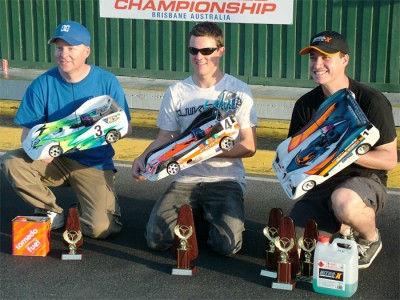 Qualifying strongly in the 1:8 finals, he chased Michael Kerr and Jeff Hamon who were dueling a fast and tight battle for the lead. Dorn drove consistent laps and held 3rd place. Late in the race Kerr and Hamon encountered difficulties and opened a window of opportuity for him to capitalize, Dorn took the lead, Kerr restarted in 4th and set chase at record speeds and moved into 2nd position. With a handful of seconds between them, Dorn maintained speed under pressure and could see Kerr catching fast. With four seconds in hand, the thirty minutes elapsed the race finished and Dorn crossed the line for a double victory.
1/8th scale results
1. Jason Dorn
2. Michael Kerr
3. Leigh Dytor
Source: Beach Mums Racing [beachmumsracing.org.au]
---