August 18, 2009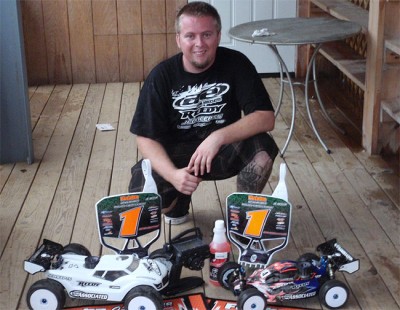 Hosted by the St. Louis Dirt Burners, the Futaba/OS Engines Nitro Challenge is one of the largest non-sanctioned events in the Midwest. With over 270 entries competing in seven classes the event offered a skill level for every driver. Team Associated sent recently crowned Truggy National champion, Ryan Maifield and his Reedy Powered Team Associated RC8B & RC8T to compete against some of the fastest drivers in the US including drivers like Josh Wheeler and Taylor James.
Unfortunately due to a summer rain burst, the Pro classes were only able to run one of the two scheduled 20 minute main events, so overall finishing positions were determined by the single 20 minute main for each class. Still feeling the pain from having over a lap on the field at the 2007 ROAR 1/8th Buggy Nats at this same track only to have his radio system fail him, Maifield drove angry and was out to prove that he's the fastest driver at the Dirt Burner's facility. Storming to victory in both Pro Buggy and Pro Truggy Maifield completed a perfect weekend with the TQ and win for both Pro classes.
As the summer winds down and the larger events drop off the calendar, look for Maifield and other Team Associated racers to compete at more regional events where they're able to interact with more customers and prepare for the final few major events across the country. Next up for Maifield is the Corn Roast Challenge in Green Bay, WI.
Source: Associated [rc10.com]
---