August 3, 2009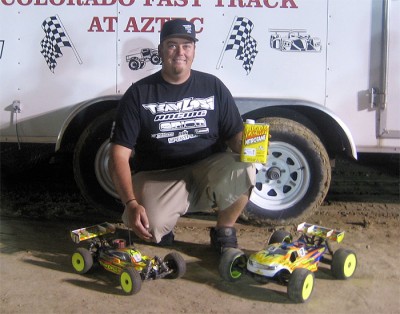 Last weekend saw the 2nd Annual Pikes Peak Nitro Challenge Pay race sponsored by Mugen Racing. The race was held at Colorado Fast Track in Colorado Springs Colorado. With a Pay out to the Top 5 in each class, the race had several well known drivers from around the country in attendance. Most notable was Mike Truhe off his TQ of the 2009 Roar Buggy Nationals 2 weeks ago. The race would prove to be very challenging for most drivers with the track layout designed to be technical, with a huge Quad into a difficult triple. With the elevation over 6500 ft from sea level, motor tuning would be very key to having success for the weekend over the 45 minute A-Mains. The big talk around the track was getting optimum power out of the motor with out lean bogging or running too hot.
Pro Buggy – Team Losi Pro driver Mike Truhe would prove to be too tough in qualifying, TQ'ing all 3 rounds. Losi Teammates and Local drivers Matt Chambers 2nd and Dustin Evans 3rd would round out the top 3 in the very competitive buggy qualifying. So with the 45m A-Main underway it seemed Team Losi would be in good position to grab a few podium spots at the end. The Main would start with Mike Truhe taking full advantage of his qualifying position and worked his way to about 8-10 second lead with Teammate Matt Chambers running second and Dustin Evans Running 3rd battling with a hard charging Team Associated Driver Kody Numedahl running in 4th. After about 20 minutes the race had looked like Truhe and Chambers had settled in and were running comfortable in the top 2 spots, until Truhe started to have motor/power issues making the Quad, triple jump section. Truhe would have to pit a couple times to retune his motor to get the needed power to finish the race. This would allow Chambers to take the lead with now Numedahl in 2nd and Evans in 3rd and Mugen's Barry Pettit in 4th. Truhe would drop to 5th and the top 4 drivers all within 10 seconds of each other. For the next 10 minutes the race for 1st was as exciting as it gets. Chambers leads the way and a couple mistakes in the middle of the track now has Numedahl running in 1st. A couple mistakes by Numedahl now puts Evans to the lead with about 15 minutes to go. Evans would build about a 5 second lead and eventually have mechanical issues ending his chances at Top 5 Podium/Payout spot. 10 minutes to go and now Numedahl and Chambers each trade places taking the lead. With nerves showing from the top drivers with the race clock ending a hard charging Truhe was working with Barry Pettit to the front with the fastest lap times of the event. Truhe would eventually regain the top spot with about 5 minutes to go and never look back. A very determined Pettit would come up a couple seconds short of racing Numedahl to the finish line for the 2nd spot.
Pro Truggy – Truggy qualifying seemed to be a lot closer in times. With 3 different drivers TQ'ing each round of qualifying. With fast time seeding the mains, Truhe would again have the fasted run with Teammate Evans 2nd and Numedahl 3rd. With 14 truggies all going for the money it was a crash fest for the first seemed to be 5 minutes of the race. Racers were determined to get to the front to run with the top 3 drivers who had clean starts. Top 5 would be Truhe, Evans, Numedahl, Mugen's Drew Moller and Losi's Lars Johnson. Again Truhe would build about a 6 second lead with incredible lap times to start the main. For the first 20 minutes Truhe, Evans, Numedahl were spread out from each other by about 6-8 seconds each. The race from 4th -8th was messy but starting to clean up, with now Mugen Driver Vincent Ringler 4th and a charging Team Associated Driver Adrian Redding 5th chasing for a Top/Payout spot. In the End, Evans would again have mechanical issues ending his challenge for the win. Truhe would cruise to the finish with Numedahl in 2nd and Redding 3rd.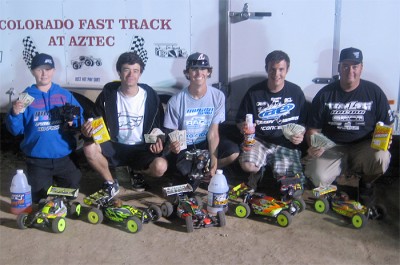 Pro Buggy
1. Mike Truhe (TQ) – Losi / Orion / Losi
2. Kody Numedahl – AE / Reedy / Jconcepts
3. Barry Pettit – Mugen / Ninja / Jconcepts
4. Matt Chambers – Losi / GRP / Losi
5. Drew Moller – Mugen / Ninja / Proline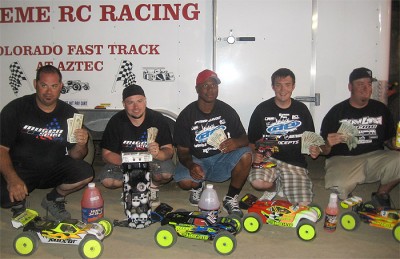 Pro Truggy
1. Mike Truhe (TQ) – Losi / Orion / Losi
2. Kody Numedahl – AE / Reedy / Jconcepts
3. Adrian Redding – AE / Reedy / Proline
4. Chris DeWinter – Mugen / Ninja / AKA
5. Vincent Ringler – Mugen / Ninja / AKA
Thanks to Adrian for the report.
---