August 3, 2009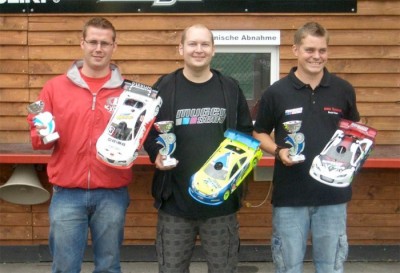 Mugen team driver René Puepke has captured his second win in the fifth and ultimate round of the Western German Championship 1/10 nitro 2009. On the track of the 2008 German Nationals at Hamm near Dortmund the E.C. (B) finalist took TQ and won the 30 minutes final in style. Already seven laps down was Bernd Rausch who lost three laps when a spring cap trailed away following an incident. For the Kyosho driver it was the fourth visit on the podium with two second and two third places. The last spot on the Podium went to local hero Daniel Thiele who pushed his Mugen at the end to pass the Xray of Claus Nauth in the very last lap.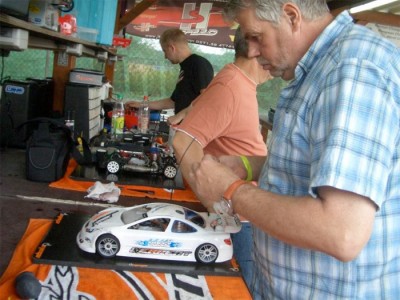 Beside Puepke it was Karl-Heinz Meister, pleased with his first outing of the new Serpent 733, Rausch and Thiele to jump directly into the final. Arndt Bernhardt (Mugen) won semfinal B ahead of Benjamin Lehmann (Serpent 733) and Nauth, while Dirk Drechsler led a Mugen trio in semifinal A in front of Thilo Toedtmann and Ralf Hohmann who came from the quarter final and finished an overjoyed fifth at his first appearance in a final.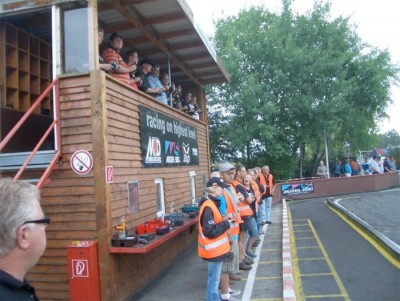 As usual the race weekend was affected by rain. Following early rain in the morning the five rounds of heats were fortunately run under dry conditions. First drops of rain hit the track before the start of the semifinal B but this was still held on a dry track. For the semifinal A the track became wet and only five drivers made it to the start. The final race was delayed for 30 minutes following hopes of a try tarmac but this didn´t happen. Slight rain increased after a few minutes after the start. Two drivers stopped their racing for about ten minutes while all the others did slow down but no one changed tyres before the track got dry again for the second half.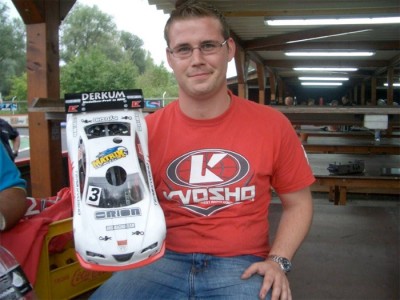 Only 26 entries meant a negative record for the Western German Championship, but the AMC Hamm had organised a positive race weekend. Tragically for the second time, after round four one month ago, the drivers had to join in a minute of silence during drivers briefing. Following his team mate Dieter Weck, scale racer Michael Derwall had passed away due to a heart attack.
The Top 10 result of Hamm:
1. René Puepke, 113 laps (TQ) – Mugen / JP / RPM
2. Bernd Rausch, 106 – Kyosho / Team Orion / Matrix
3. Daniel Thiele, 100 – Mugen / Novarossi / RPM
4. Claus Nauth, 100 – Xray / Orcan / Xray
5. Ralf Hohmann, 92 – Mugen / Novarossi / GRP
6. Arndt Bernhardt, 87 – Mugen / Ninja / GRP
7. Thilo-Alexander Toedtmann, 81 – Mugen / Ninja / GRP
8. Karl-Heinz Meister, 71 – Serpent / Mega / Xceed
9. Dirk Drechsler, 50 – Mugen / Novarossi / RPM
10. Benjamin Lehmann, 31 – Serpent / Mega / Xceed
Statistics: Six Mugen in the final race were joined by two new Serpent 733 and one each of Kyosho and Xray. Three drivers relied on Novarossi power, two each on engines from Mega and Ninja, one each on JP, Team Orion and Orcan. Concerning tyres it was three each for RPM (ATS) and GRP, two for Xceed (Enetti) and one each for Matrix and Xray (GRP). Interesting: Lots of drivers have turned to the Blitz Altis 2.3 body of Team Titan.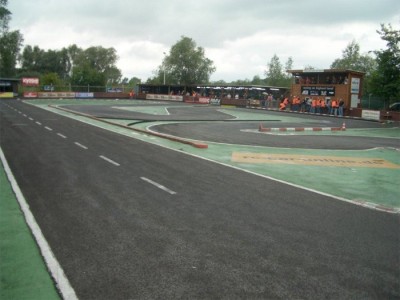 Winner of the Western German Championship 2009 is Sebastian Buerge who recorded 580 points with one win, two seconds and one third. The Mugen driver is followed by Bernd Rausch (561) and René Puepke (555). A total of 52 drivers collected points in the five races. For comparison: In 2008 a total of 70 drivers took points in six races which means a cutback of 25 percent.
The final top 10 ranking of the Western German Championship 2009:
1. Sebastian Buerge, 580 Punkte – Mugen
2. Bernd Rausch, 561 – Kyosho
3. René Puepke, 555 – Mugen
4. Daniel Toenessen, 506 – Mugen
5. Claus Nauth, 493 – Xray
6. Dieter Fleischer, 468 – Kyosho
7. Dirk Drechsler, 449 – Mugen
8. Arndt Bernhardt, 429 – Mugen
9. Daniel Thiele, 420 – Mugen
10. Uwe Baldes, 410 – Xray
Next race will be the one-event decision of the German Championship which will be held from 9th to 13th September at Tuerkheim in the south of Germany.
---