August 13, 2009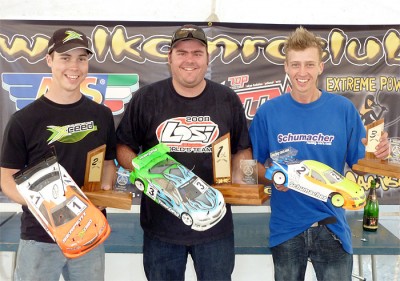 The 4th round of the South African Electric National Championships were held this past weekend at the brand new Welkom RC Club facility. This facility located about 2.5 hours south of Johannesburg was the dream of Antonio Caroli, Antonio the SA distributor for ATS Tires, Team Wave and Castle Creations has always wanted to have a first class venue available to not only the drivers in South Africa but also the world. He has worked tirelessly on the facility to ensure that every detail was taken care of and the track was prepared for the grand opening event.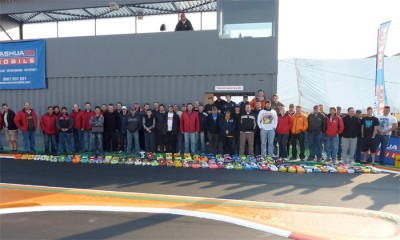 A record number of 125 racers participated in this event the largest ever for a series event with drivers coming from all areas of South Africa. 5 classes were run including Stock (540 motor) Super Stock 17.5, 19t/13.5. 1/12th Modified and Touring Modified. Thursday and Friday was practice for the drivers with Qualifying being held on Saturday and Sunday the final. Weather was absolutely perfect. For winter, that's right. On this side of the equator at this time of the year, it is winter. But winter in South Africa is much different from what we consider winter, it is warm during the day but did get a bit cold when the sun went down.
One of the unique things that is different about electric touring car racing in SA is that they run on Foam tires on the asphalt. Which does make things a bit easier for everyone especially the beginners, but makes for some fantastic racing in all the classes.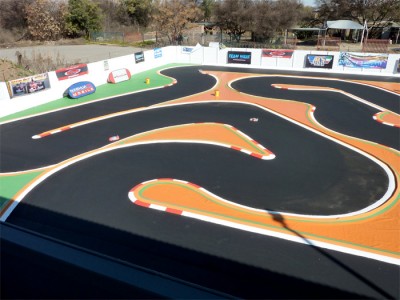 Modified Touring was the premier class at the event and all the top guys from throughout SA made the trip for their chance to run on this world class track.
The fight for TQ honors went on in each round of qualifying drawing first blood was Michael Gibson running an impressive. 17-5:01 which was 16 seconds faster than his closest competitor Mikael"mikey" Wiseman driving a Serpent and over a lap faster than reigning SA Off Road master Dean Steensman. Dean without question the top Off Road racer in SA decided he would like to run at this amazing facility and busted out his Losi JRXS-R to run with the guys. Round 2 had Gibson up first and his run was considerable slower than his first round. Wiseman was up next and laid down an absolutely perfect run of 17-5.00 just .3 tenths faster than Gibson's first run but good enough to take the pole from Gibson. Steensman was able to go faster and get on the 17 lap pace as the other 2, but still left room for improvement. Round 3 was the same song for the Michaels not any faster than their previous runs, but the Losi of Steensman was hooked up. Dean laid down his best run and just missed TQ by .9ths of a second.
So the stage was now set for a Schumacher, Serpent, and Losi showdown. Triple mains were run for the Touring Modified class and after a bit of a shuffle in the first turn, it was the Losi of 3rd qualifier Steensman who got out front and did not make a mistake. Cruised around for the track and won with a half of track lead. 2nd place went to Gibson and 3rd to Wiseman. Round 2 had a bit more exciting start as Gibson was able to get to the front with Dean behind him and Wiseman, but on lap 2 Gibson went wide on the corner off the front straight giving Steensman the opportunity to go for the pass, Steensman took advantage of this miscue from Gibson and went to the inside, they banged doors as they come out of the corner as Gibson tried to protect his position but this contact caused something to go wrong in Gibson's cars causing him to retire. The referee's felt this was a good pass as the 2 cars were completely side by side and no foul was called. Dean was able to put a bit of space between him and now second place Wiseman. As the final continued Wiseman was not able to close on Steensman but with 1 minute to go, his Serpent started slowing and he had to pull off line and retire. This drop allowed Neil Wanvig the opportunity to take over 2nd and just as Wiseman slowed down now with 2 laps to go the Losi of Steensman started slowing, some sort of problem was causing our leader and potential champion to slow drastically. Wanvig was closing on the last lap but Dean was able to milk his car across the line just in front of the charging Wanvig and taking 3rd was Wimpie Van Aswegen in his Hot Bodies. So taking the first 2 mains it was the Off Road racer showing that he is not only a good wheel in the dirt, but can also get the job done on the tarmac. With the title locked up, the race was for the final 2 podium spots.
Neil, Gibson, Wiseman and Wimpie all had the opportunity to make the podium and it would come down to the final main. Main 3 lived up to the excitement we were expecting. Mickey and Michael new they needed great finishes to make the top 3 and it was exciting. Wiseman got the early lead and built up a comfortable lead after Gibson had to come in for a drive through penalty. But that penalty only made Gibson drive that much harder and as the laps clicked away he was laying down some of the fastest laps of the event. Quickly closing in on Wiseman and Wiseman could see it. With 1 lap to go there was 2 meters between the 2 and Gibson closed in on the last lap and with just the chicane to go Gibson was right on Wisemans bumper, only a perfect last corner could give him a shot at the win, Gibson nailed it just right and caught Wiseman at the line and it was up to the transponder location to see who was going to be the winner. A difference of .04 1/100ths of a second and it was Wiseman who held on for the win. A very exciting finish to a fantastic event.
Winners in the other divisions were:
Stock – Anton Du Plooy
Super Stock – Michael Gibson
19T/13.5 – Michael Gibson
1/12th Modified – Michael Wiseman
One side note a great battle between Wiseman and Wanvig in 1/12th . Both drivers drove fantastic and the last final decided it all. Congrats to both of these top young talents.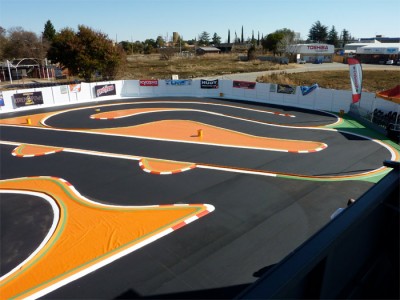 South Africa may not be known in the world of RC as hot bed of racing or a place with top drivers, but after spending some time there, they definitely have their share of talent. 3 names you read about in this report are Gibson, Wiseman and Wanvig. All are 17 or 18 years old and coming into stride. These guys all have great talent and I look forward to watching them continue to grow as racers.
Sarda which is the ruling body of racing in SA also must be commended on their organization of the event. Stan Hausmann the director of Sarda did a great job officiating the event and ensured all went well. As I have been informed, they have applied for the World Championships in 2010 and with this facility they have a wonderful track to host the event.
So as I make my journey back home, I look back at an event that was spectacular. Great racing, Great friends and an absolute amazing facility. Antonio, an accomplished racer in his own right, also raced this weekend and made the A final in both 13.5 and Modified but with all he had going on this grand opening weekend, I am sure he would have loved to make the podium, but I have to think that even last place would have been ok considering the amazing job him and his team did on this event. I want to thank everyone for the kindness and hospitality they showed me and I look forward to my next time I can be part of one of their events.
Report by Scotty Ernst
---