August 25, 2009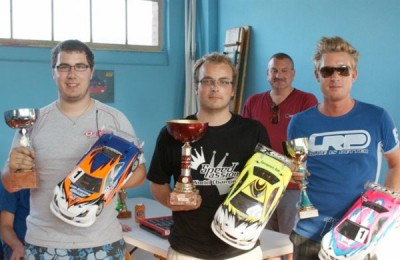 The club SRCF was the host for round four of this years FBA touring car championship. In the EFRA class, qualifying went the way of Benoit Thomaes with his Xray who was the polesitter, with Thomas Stockman also with an Xray on second spot and local driver Manuel Henriet with his Schumacher was third. The first final was very exciting and saw a battle between Benoit Thomaes and Thomas Stockman for the lead, lap after lap. Thomas Stockman took the lead and Benoit was fighting hard to retake it, but Thomas was outstanding and took victory in the first final, Benoit came as second and Nick Joosens was third. In the second final there was a collision in the first lap but Benoit Thomaes had a clean start and pulled away from the rest. It was Olivier Bultynck with his Corally who came from last and took second spot just behind Benoit with Manuel Henriet third.
Everything could happen in the third final and it was Benoit who took a splendid start. Manuel Henriet had bad luck and went off and so it was Olivier who became the challenger for the lead. It became a big fight with Benoit but he kept the lead and Olivier went off. In the last lap Thomas Stockman came back at Benoit who was dumping. In the straight we saw a collision between Thomaes and Stockman. It was Thomas Stockman who was the first back on the track and took the leg win. Benoit Thomaes took second place and Olivier Bultynck took third. Overall winner for the first time was a very happy Thomas Stockman with his Xray, second Benoit Thomaes also with an Xray and third place for Olivier Bultynck with his Corally.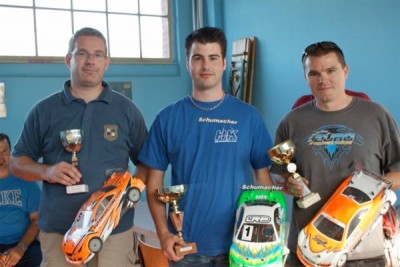 In the Superstock class it was this seasons revelation Geoffrey Vekemans who took the pole after qualifying, with Stephane Roufosse second and Renaud Gysemberg third. The first final was a battle between Geoffrey and Stephane with Geoffrey taking the win ahead of Stephane and Renaud. The second final was almost a copy of the first but Stephane Roufosse took the lead after four minutes and won in front of Geoffrey with Cédric Gils in the third place. The third and last final would decide who would be the winner in the Superstock class. Geoffrey took a splendid start in front of Stephane Roufosse and it was Geoffrey who was extremely fast and took the win. Stephane had a battle with Nick Logie but took second place in front of Nick. Overall the win went to Geoffrey Vekemans, Stephane Roufosse second and Cédric Gils took third place.
Source: Swingman [swingman1962.googlepages.com]
---