September 28, 2009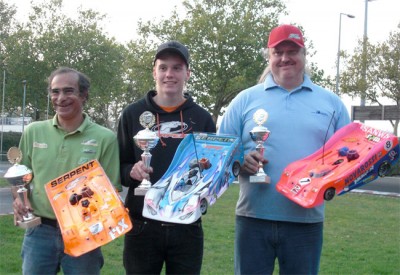 Oberhausen, the heart of rc racing in Western Germany, held round two of the new NRW Challenge (NRW = German State North Rhine-Westphalia) under great conditions with blue sky and temperatures around 22 degrees Celsius on both days. Lots of spectators saw hot racing with 46 competitors and exciting fights but also partly over-motivated drivers and lots of flying cars. At the end Tobias Hepp and Sebastian Buerge did it again and – like at round one at Dueren – won the 45 minutes finals of the two nitro classes 1/8 scale and 1/10 scale (200mm).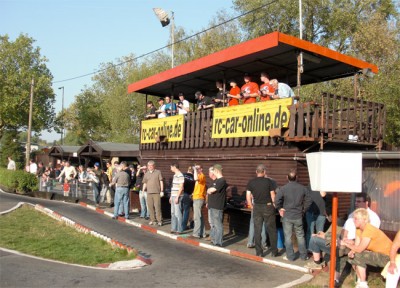 Serpent youngster Tobias Hepp gathered the basis for his success on Saturday with around 450 laps of practise and a new unofficial lap record with an impressive 11,489 seconds. During the three heats he achieved the pole position with 25 laps in 5.02,055 minutes ahead of team mate Karl-Heinz Meister (5.05,398), Motonica team driver Christian Wurst (5.06,162) and local hero Ralf Vahrenkamp (Serpent/5.07,075). Only these four completed 25 laps.
The 20 minutes 1/4 final was won by Benjamin Krings and also Sebastian Scheidweiler, Juergen Jungklaus, Bjoern Koenig, Andreas Goebel and Stefan Lautenschlaeger made it into the semi finals which were run for 30 minutes. Lots of racing time is the gift to all drivers in the new NRW Challenge. Austrian Michael Selner topped the results in semi final B followed by Frank Schewiola, in semi final A Frenchman Alain Levy, Carsten Pruessmann, Benjamin Krings and Bulgarian Emil Kostadinov earned their positions in the finale grid.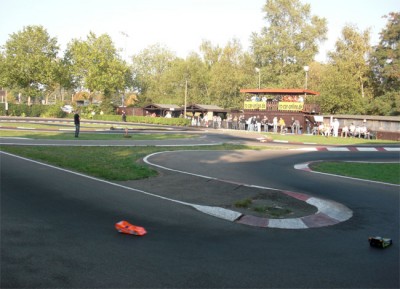 Christian Wurst pushed his Sirio-powered Motonica into an early lead in the 45 minutes race with lots of lap times below the 12 seconds mark but had bad luck in the eleventh minute when he couldn't avoid to hit a car which had spun just before. Now it was pole man Tobias Hepp – his fastest lap of the day was an 11,587 – to lead the field. With his Mega-powered 966 he easily pulled away from the rest to win with a convincing margin of eleven laps. The fight for second was a worth seeing battle between Michael Selner and Alain Levy. The Austrian was running second with his Novarossi-powered Mugen for most of the time but the Frenchman with his Serpent/Mega arrow with an unusual orange/white body (borrowed from Hepp because he forgot his bodies in France) was fighting like hell and after some failed overtaking attempts he moved up onto second. Karl-Heinz Meister came in on fourth even he changed his engine during the race quite rapidly. Only five cars saw the checkered flag.
Results of the top ten 1/8 scale
1. Tobias Hepp, 211 laps – Serpent / Mega / Xceed
2. Alain Levy, 200 – Serpent / Max / Xceed
3. Michael Selner, 199 – Mugen / Novarossi / ATS
4. Karl-Heinz Meister, 184 – Serpent / Mega / Xceed
5. Emil Kostadinov, 173 – Mugen / Reds Racing / GRP
6. Ralf Vahrenkamp, 168 – Serpent / Novarossi / Xceed
7. Carsten Pruessmann, 90 – Kyosho / R&B / Enetti
8. Frank Schewiola, 85 – Serpent / Sirio / Xceed
9. Benjamin Krings, 60 – Mugen / Mega / Xceed
10. Christian Wurst, 54 – Motonica / Sirio / Matrix
Statistics: Five Serpent were joined by three Mugen and each one Kyosho and Motonica in the final race, on the engine side there were three Mega, each two Novarossi and Sirio and each one Max, Reds Racing and R&B, with Xceed tyres used by six drivers with each one ATS, GRP, Enetti and Matrix.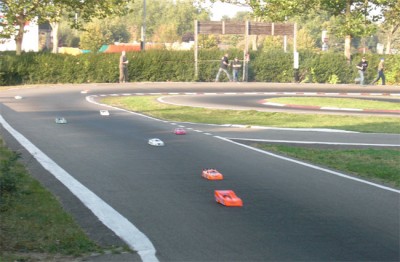 In the 1/10 200mm nitro class Sebastian Buerge caught the pole position with 23 laps in 5.03,708 ahead of Philipp Krause (23/5.05,190). Because in these races the body is free Krause was like others using a Lola body which makes racing easier and normally faster. Third of the grid was Michael Salven (23/5.07,622) who arrived Saturday to support his long-time fellow Karl-Heinz Meister but made a late Sunday morning decision to enter racing with the 733 of Meister without practise. Arndt Bernhardt won the 30 minutes semi final B ahead of still very fast 63 year old local hero Werner Vogel to make it into the finale as Daniel Toenessen, Nicole Boers, Andreas Weyhoven and Hermann Fuchs did in semi final A.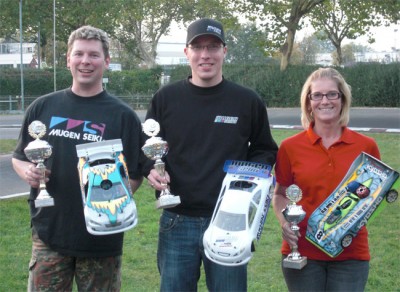 The finale race was a 45 minutes promotion for this sport. Michael Salven stormed into the lead with Arndt Bernhardt at his tail while Sebastian Buerge lost some time because his engine flamed out at the start. After a few laps Salven who did the fastest 1/10 lap with a creditable 12,813, went wide and Bernhardt could pass. The Mugen driver took control of the race but the long racing time brought him to his own limits while Buerge snapping tenth by tenth. With only less than a minute to go Buerge was at Bernhardt´s tail, both cars made contact, Bernhardt more than fair waited for Buerge to get out of the grass again. Finally he couldn't keep Buerge behind who achieved a last lap victory with a one second margin over an exhausted Bernhardt to make it a Mugen 1-2. While these two run a Stratus and an Audi body respectively the first car with a Lola body came in on third. And it was Kyosho female racer Nicole Boers who showed up an excellent performance with a steady race to earn the last position on the podium. Only five drivers completed the 45 minutes race.
Results of the top ten 1/10 scale
1. Sebastian Buerge, 194 laps – Mugen / Novarossi / GP
2. Arndt Bernhardt, 193 – Mugen / Novarossi / GRP
3. Nicole Boers, 182 – Kyosho / Max / GP
4. Daniel Toennessen, 171 – Mugen / Novarossi / GRP
5. Andreas Weyhoven, 165 – Kyosho / R&B / GP
6. Philipp Krause, 101 – Kyosho / R&B / RPM
7. Hermann Fuchs, 97 – Mugen / Ninja / Enetti
8. Werner Vogel, 74 – Kyosho / Team Orion / Matrix
9. Michael Salven, 39 – Serpent / Mega / Xceed
10. Bernd Rausch, 0 – Kyosho / Team Orion / Matrix
Statistics: Five Kyosho, four Mugen and one Serpent made it into the 1/10 finale, powered by three Novarossi, two each Team Orion and R&B and one each Max, Ninja and Mega, running on tyres from GP handmade by Juergen Plan (3), GRP (2), Matrix (2), RPM/ATS (1), Enetti (1) and Xceed/Enetti (1).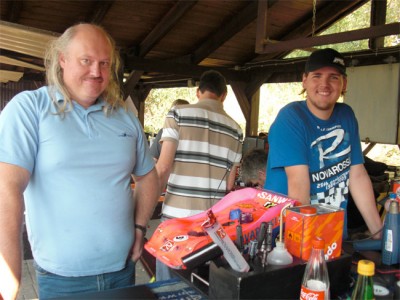 Following two sweeping rounds of the new NRW Challenge the third and ultimate round will be held on the demanding track of MCC Rhein-Ahr (www.mcc-rhein-ahr.de) located in Bad Breisig directly at the Rhine river between Bonn and Koblenz on 17th and 18th of October.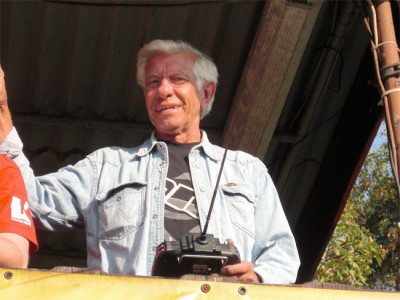 ---