September 4, 2009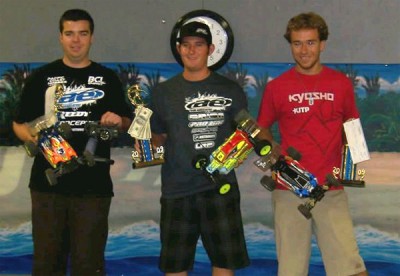 Hosted by Orange County R/C Raceway in beautiful Huntington Beach, California the 2nd Annual Proline Surf City Classic boasts a $4000 cash payout for the four major classes. A victory in the 1/8th Pro Buggy, 4wd Pro Buggy, 2wd Pro Buggy or 2wd Pro Truck sends winner home with $500 in cash, second takes $300 and third nets $200. Not too bad, so much so that it brought out a few top racers from across the country including Ryan Cavalieri, Jared Tebo, Jeremy Kortz, Steven Hartson and Frank Root just to name a few.
In qualifying, Team Associated's Ryan Cavalieri was on fire! TQ'ing all four classes with his RC8e, B4, B44 & T4. Cavalieri looked to be on a mission and primed for a $2000 pay day. As Sunday's main events rolled around all the talk was about the track and how much it had changed since the qualifying. Slick conditions meant that precision driving would be at a premium and racing would be tight.
[youtube] http://www.youtube.com/watch?v=ML0uaicmuyw[/youtube]
First up was the 1/8th Pro Buggy event in which Cavalieri TQ'd over Jeremy Kortz. A rough start for Cavalieri saw Kortz spotted to a 3-4 second lead as Cavalieri shook down his RC8e. As Cavalieri closed in, the racing got tense and a bit rough, however Cavalieri found his way to the front and soon checked out claiming the first $500.
The second class up was the 2wd Pro Truck. As the main event got underway, Frank Root with his Reedy/LRP powered T4 shot to the lead only to have a mechanical failure. This left Cavalieri and Hartson to battle it out for the victory with Cavalieri taking the win and the second of the $500 payout.
[youtube]http://www.youtube.com/watch?v=BVZEB3a1APU[/youtube]
Third up was 2wd and enter Jared Tebo. Having watched Cavalieri already claim two victories and Hartson hungry for his first, Cavalieri would have no small task holding off these two competitors. As the main got underway these three drivers checked out from the field and exchanged the lead back and forth several times. With two minutes to go, Hartson made a mistake that appeared to give Cavalier an insurmountable lead, however a popped ball cup in the final 30 seconds from Cavalieri saw Hartson and Tebo both get by, relegating Cavalieri to the 3rd position and vaulting Hartson to the top and claiming the $500 purse.
[youtube]http://www.youtube.com/watch?v=BVZEB3a1APU[/youtube]
The final race of the event was the 4wd Pro Buggy. Again Cavalieri started from the pole position, however an early tangle with Tebo gave Frank Root the lead. As the foursome of Root, Cavalieri, Tebo and Hartson set a blistering pace each took turns towards the front of the group until Cavalieri broke free from Tebo to cruise to the win. This left Hartson and Root to battle for the third and final cash paying position which eventually went to Frank Root.
Special thanks goes out to OC/RC and the track crew for hosting the Proline Surf City Classic. With high payouts on the line and close racing, don't be surprised to see more top pros challenge SoCal's best next year at the 3rd annual event.
Source: Associated [rc10.com]
---