September 21, 2009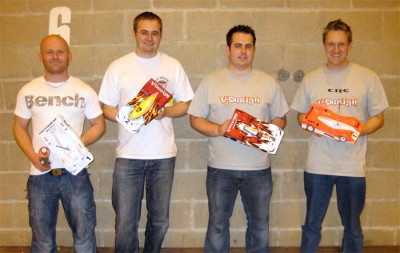 Chesterfield Auto Racing Society played host to a Grand Prix style 2-day meeting, with support from Action Model Centre. Both stock and modified classes were catered for, with just over 2/3 of the entry opting to run 10.5 motors in the stock class. In qualifying, new V-Dezign team recruit Russ Williams took a comfortable TQ with his new Carpet Ripper 2.0 chassis. Russ took a few runs to get to grips with his new ride, but was soon up at the front where everyone expected him to be. Mick Farrell qualified 2nd for Hot Bodies with Peter Craig 3rd for Serpent.
The modified class saw a V-Dezign whitewash! Andy Griffiths was on stunning form and easily set TQ. He was followed by Chris Kerswell with Mark Stiles 3rd, both running Carpet Ripper 2.0's. This trio were by far and away the quickest in the class – nobody else was anywhere close.
The first stock A final was a disaster for Russ Williams; he crashed at turn one and allowed Mick Farrell through to take the win. However, Russ made up for his earlier mistake by comfortably winning the second leg and taking the overall victory ahead of Mick. Mark Jewitt finished 3rd overall for Xray.
Andy Griffiths was the runaway winner in modified; he lapped the field in leg 1, and despite being kept honest by Mark in the first half of leg 2, he went on to win the race by half a lap. Mark took a brace of seconds to finish 2nd overall, with Andy Sawyer 3rd for Corally. Chris Kerswell had two very unlucky finals, but still managed to salvage 4th place overall following some spirited driving.
So once again the V-Dezign team were on fire and look set to be a dominant force at this years BRCA nationals. Andy, Mark, Chris and Russ will also be driving for V-Dezign in the BRCA teams championship which runs alongside the national series.
Thanks to Mark Stiles for the report.
---