September 28, 2009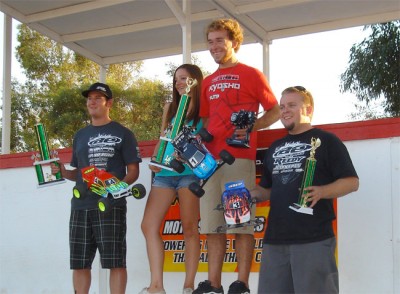 The 2009 Reedy Truck Race of Champions was held this past weekend at Hot Rod Hobbies in Saugus, California. Scorching temperatures hit the San Fernando Valley all week long even reaching triple digits at some points. Kyosho's Jared Tebo made the trip out to defend his Factory Modified Truck title he won last year. This would also be the first year Tebo would run in the Factory Truggy class with his ST-RR. Jared went on to TQ 3 out of the 4 rounds in the Factory Modified Truck class with his Kyosho RT5 guaranteeing him the top spot on the grid. Tebo went on to win A-Main 1 and A-Main 3 to take the Factory Modified Truck Championship ahead of Ryan Cavalieri in 2nd and Ryan Maifield 3rd.
Overall Finishing Results:
1. Jared Tebo (TQ) – Kyosho RT5/Team Orion
2. Ryan Cavalieri – Associated/Team Orion
3. Ryan Maifield – Associated/Reedy
4. Steven Hartson – Associated/Check-Point
5. Frank Root – Associated/Reedy
6. Joe Pillars – Kyosho RT5/Team Orion
7. Johnny Wachter – Losi/X-celorin
8. Nick Lasley – Losi/Team Orion
9. Chris Jarosz – Associated/Reedy
10. Brian Kinwald – X-Factory/Trinity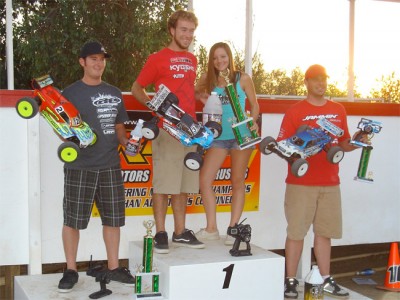 In the Factory Truggy Class qualifying was very close. Jared would start 3rd on the grid for the 45-minute A-Main even with a TQ and 2nd for points in qualifying. At the start of main Maifield, Cavalieri, and Tebo broke away from the field. At the halfway point it was now Cavalieri leading with Tebo about 5 seconds back. Tebo was going 9-minutes on a tank and would end up having one less stop than Cavalieri. With about 5-minutes to go Cavalieri came out of the pits just in-front of Tebo. The two battled would then battle it out. Tebo made a clean pass for the lead and held on for the win, Ryan Cavalieri would have to settle for 2nd and Chad Bradley would take 3rd.
Overall Finishing Results:
1. Jared Tebo – Kyosho ST-RR/Team Orion
2. Ryan Cavalieri – Associated/Team Orion
3. Chad Bradley – Jammin/OS
4. Frank Root – Associated/Reedy
5. Chris VanAir – Losi
6. Ryan Maifield (TQ) – Associated/Reedy
7. Chris Jarosz – Associated/Reedy
8. Brian Kinwald – Losi/Trinity
[youtube]http://www.youtube.com/watch?v=nDzwyeXxSak[/youtube]
[youtube]http://www.youtube.com/watch?v=dIXk8wnnpnA[/youtube]
Source: Kyosho [kyoshoamerica.com]
---