September 29, 2009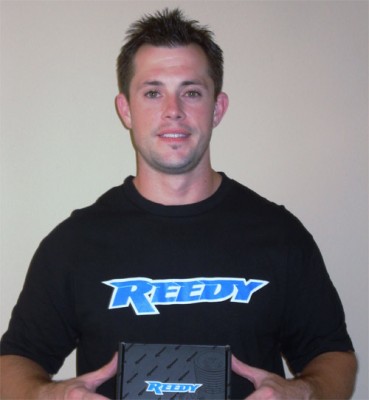 2009 ROAR 1/8th National finalist and multi-time ROAR Regional and R/C Pro Regional Champion,  Jason Branham has joined the Reedy team.  Jason will be using the recently crowned ROAR & BRCA National Champion 121 VR engine along with Reedy batteries and accessories. Having just received his engines late last week, Jason broke in the engines and headed to the track.  His initial comments were nothing but praise.
I'm amazed with the power the motor makes.  It's very smooth…with the Factory Team 2035 pipe and header I thought the motor was going to explode down the straight! I was also impressed with how crisp the motor runs and how smooth it idles.
Jason brings an impressive resume to the Reedy team and looks to finish the year strong with events planned at the Texas State R/C Pro Series, R/C Pro Finals, the Nitrocross World Championships mixed in with local racing at Mike's Hobbies & Gulf Coast Raceway.  If you're in the area and have a Reedy engine, don't hesitate to stop by Jason's pit, introduce yourself and ask for a pro tune.
Source: Reedy [rc10.com]
---