September 10, 2009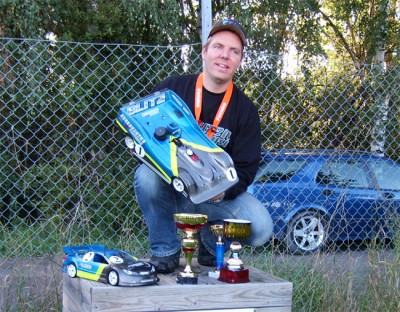 The Swedish Championship in 1:8 Track and 1:10 NT was held at the huge Örebro track last weekend. Around 40 drivers attended and it proved to be a very competitive race. In the 1:8 class Mikael Fransson showed great form with his Mugen MRX4X working absolutely perfect. He managed to take TQ around 5 seconds in front of local driver Stefan Andersson. In third place it was Marcus Lindner and in fourth it was Serpent driver Bengt Andersson. Alexander Hagberg made an interesting start in this class and finished fifth after qualifying.
After jumping the start in the final Fransson had to come in for an early stop and go penalty. He was then forced to battle through the field and after 10 min he was in the lead which he kept until the end. Both Patrik Johansson and Patrick Sahlin drove very impressive in the final finishing second and third on the podium.
Final result 1:8
1. Mikael Fransson Mugen MRX4X
2. Patrik Johansson
3. Patrick Sahlin
4. Lars Haugen Mugen MRX4X
5. Christoffer Hedlund
6. Bengt Andersson
7. Hans Lyxell
8. Marcus Lindner
9. Stefan Andersson
10.Alexander Hagberg
In the 1:10 class it was pre-race favourite Alexander Hagberg that took the TQ honours followed by Mikael Fransson, Mikael Brandt and Per-Ola Hård. The final started in wet conditions and many drivers struggled to find grip. Mikael Fransson made the right tyre choice and was able to take a very big lead. After 30 min the track was dry and everyone had to come in for tyre change. Fransson was able to maintain his lead with his MTX4R working really good in both wet and dry conditions. Having made some small setup changes from qualifying he was very happy with the performance of his car in the final.
Final result 1:10
1. Mikael Fransson Mugen MTX4R
2. Staffan Karlsson
3. Mikael Brandt
4. Markus Hellquist
5. Alexander Hagberg
6. Per-Ola Hård
7. Thomas Gidlund
8. Bengt Andersson
9. Alexander Andersson
10.Thomas Livbom
Source: Micro Racing [microracing.se]
---