September 20, 2009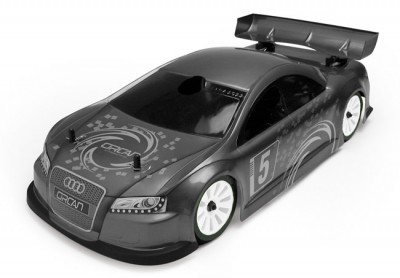 The Audi A5 body for the 1/10 scale 200mm nitro class has made an impressive racing entry when all ten finalists at the recently held German Nationals at Tuerkheim have been using this new body shell. For the first time the Audi body was seen during practice of the season opener of the Western German Championship early April at Oberhausen when Xray/Orcan team drivers Dirk Wischnewski and Freddy Suedhoff conducted mayor tests with one of the first prototypes. During the development a total of ten different prototype bodies have been tested. "Our main goal was to develop a body which is easy to drive and offers as much front-end grip as possible", says 2009 European Champion Dirk Wischnewski who runs most of the test sessions and exerted the main influence on the body development. "It has been really interesting to see the improvements of the different development steps."
The new Audi A5 looks very true to the original and offers a realistic touring car feeling. Of course this spectacular look is also created by the distinctive Audi radiator-grill and the official Audi logo. But more important is the high front-end grip and the excellent driveability of this new body whose balance can be affected not only by the position but also by the massive rear wing and its important side flaps.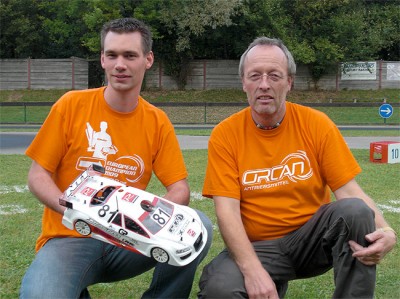 "We are delighted about the first success with all ten finalists running the Audi A5 at the German Nationals", says Bertram Kessler of SMI Motorsport, who was, together with Dirk Wischnewski, mainly involved in the development of this body in co-operation with the German body maker TRT/SLB. "The feedback is very positive and we have a keen demand for this new body", continues the German Xray importer, who offers the Audi A5 body – not exclusively – under his own product line Orcan. Furthermore this product line includes the very successful Orcan LR3 .12 engine (position 1 to 5 at the German Nats), off-road engines, pipes, racing fuel, tyres, batteries, cleaning and care products.
The Orcan Audi A5 which suits perfectly to the Xray NT1 but also to other 1/10 chassis, comes with the usual protection film, a pre-cut decal sheet with radiator-grill, lights, logo and window masks, as well as some special information from SMI Motorsport.
Important note: Starting in January 2010 the Orcan Audi A5 body will be available with the EFRA homologation number.
Source: SMI [smi-motorsport.de]
---