September 15, 2009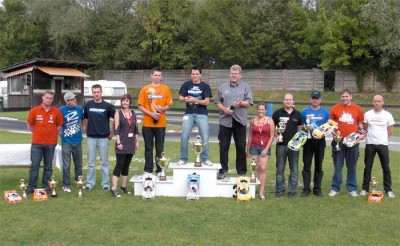 Thomas Guensel is the new German Champion 1/10 200mm nitro. The Xray driver celebrated an impressive victory in the 45 minutes finale of the German Nationals on Sunday at Tuerkheim in the German State Bavaria. With an advantage of two laps the 26 years old Guensel saw the checkered flag in an exciting finale to take the valuable German scale crown. 18 year old Simon Balk and 41 year old Michael Heinrich completed the podium on second and third. The final was another outstanding success for Xray importer Bertram Kessler (SMI Motorsport) and his own engine line Orcan: The top five positions – with dethroned champion Dirk Wischnewski on four and Eric Dankel on five – went to Xray and the Orcan LR3 power unit, manufactured by Novarossi and all of them tuned by engine expert Michael Heinrich.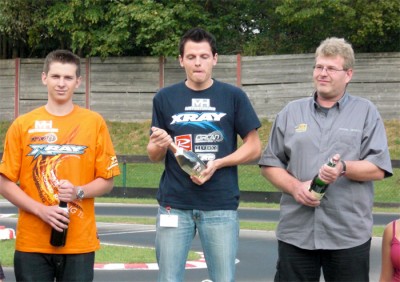 The German Nationals which started with free practice on Wednesday were held at the well prepared 220 meter track of the Mini-Car-Club (MCC) Tuerkheim under perfect conditions: Good weather with no rain on five days, a good working duo of racing directors with Fredy Dietrich, president of the German association DMC, and Heiner Martin, a long time member of IFMAR/EFRA boards, a faultless timekeeping under the lead of Alfred Roschmann, a reproachless technical inspection and not to forget a very good catering made it a race weekend to remember for all 77 competitors and all the mechanics and supporters.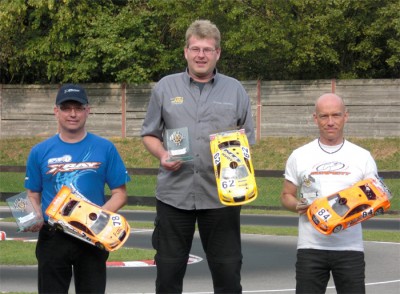 The racing time for all sub-finals was 15 minutes, except the semi finals were run for 30 minutes. Beginning with the 1/32 final lots of exciting fights were seen for the top three positions to climb up into the next final. The successful drivers have been Nobuhiro Kanabe, Peter Bialowens and Thomas Schlee in the 1/32 A, Thomas Koenigsberger, Torsten Mueller and Willy Lehmann in the 1/32 A, Werner Bergbauer, Robert Patrzek and – for the second time – Thomas Schlee in the 1/16 B, Claus Nauth, Thomas Werner and Marco Muscara in the 1/16 A, Arndt Bernhardt, Martin Henschel and Stephan Grund in the 1/8 A, Klaus Kramer, Mirco Thalheimer and Dieter Fleischer in the 1/8 A, Karl-Heinz Meister, Toni Gruber and Christoph Pietsch in the 1/4 B as well as Michael Heinrich, Patrick Naehr and Armin Baier in the 1/4 A.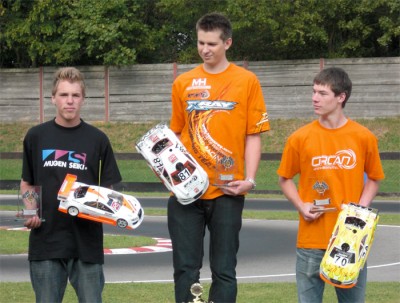 In the semifinal B it was Joerg Baldes with his Orcan powered Xray who had the best start from pole position and gained his early lead up to a half lap. Later Ralf Krause (Xray), Bernd Rausch (Kyosho), Dominic Greiner (Mugen) and Kai-Oliver Guttschau (Mugen) closed the gap and this quintet was separated by only a few seconds. Following a small mistake Joerg Baldes lost the lead to Ralf Krause but he rolled his car in the last lap, his engine stalled and he was evaluated third with 129 laps – unfortunately not enough to make it into the final. Joerg Baldes won this 30 minutes race with 130 laps and a fraction of a second in front of Bernd Rausch. Behind Krause, Dominic Greiner finished fourth ahead of Kai-Oliver Guttschau, Toni Gruber (Serpent), Christoph Pietsch (GM/self-made), Patrick Schaefer (Shepherd), Karl-Heinz Meister (Serpent) and Andreas Giesa (Serpent).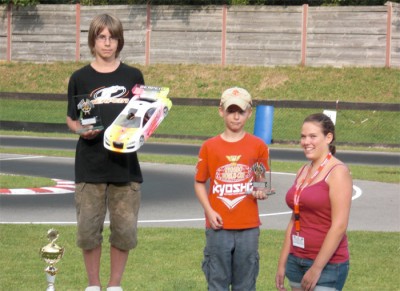 The semifinal A was a little bit faster from the beginning. Thomas Guensel started from pole position but finally it was young-gun Simon Balk who won the race following 132 laps and with a margin of four seconds over Thomas Guensel. Two laps down was René Puepke (Mugen) with Michael Heinrich at his tail. These four drivers completed the grid of the big finale while racing was over for Steve Baumgarten (Serpent), Patrick Naehr (Xray), Sebastian Buerge (Mugen), Dirk Stammler (Serpent), Armin Baier (Mugen) and Rico Kroeber (Kyosho) on position five to ten in the semifinal A.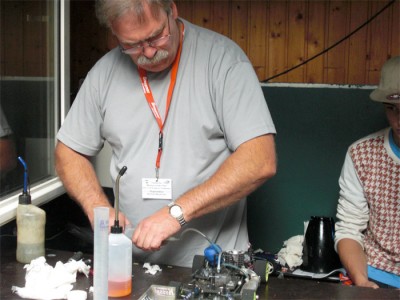 Following the presentation of the drivers René Puepke called for a time-out just after a few warm-up laps because of radio problems. Due to this problem he hit the barrier quite heavily which caused his chassis to be bent. Even he managed to move to third position in the final for a while at least he dropped back to six with his chassis touching the ground in the mid section when the tyres diameter went smaller. The problems of pole man Dirk Wischnewski, the 2008 German Champion and 2009 European Champion, started very early. A bad plug prevented him to fight for his next title, finally he saw the checkered flag on fourth position just missing the podium. Some others like Eric Dankel, Joerg Baldes and Patrick Gassauer were struggling with traction-roll because temperatures and grip-level have raised during the day. While Dirk Wischnewski couldn't really take advantage from his pole it was Michael Salven storming into an early lead with his Mega powered Serpent 733 but he lost P1 just a few laps later when he went off into the grass. A few laps later he had no chance to avoid a huge crash when a car came out of the grass back onto the main straight. After repairing the car Salven continued the race but finally stopped after 38 minutes.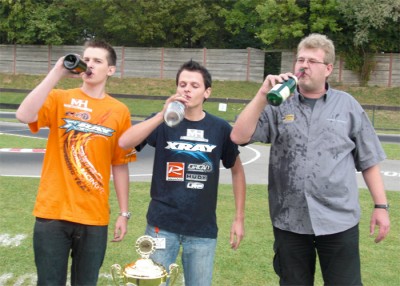 All the others made it to the 45 minutes mark with Thomas Guensel racing very quick and steady over the whole time. Even a drive-through penalty for bad refuelling (after that he called his brother and mechanic always to take care at the pit stop) couldn't prevent him from winning the race in style with a two laps advantage. It is his third German title with two earlier electric touring car titles in 2005 and 2006, not to forget his podium finish at the European Championship "B" 2008 with the Xray NT1. The newcomer of this event was with no doubt Simon Balk. He did the fastest lap of the final (13,096) followed by Eric Dankel (13,110) and Joerg Baldes (13,138) but was quick all over the race to finish on a surprising second. Also Simon Balk received a drive-through penalty for a race incident which wasn't caused by him. The man who could hardly believe to be on the podium was Michael Heinrich. The engine expert came from quarterfinal and managed to push his NT1 up to a strong third position.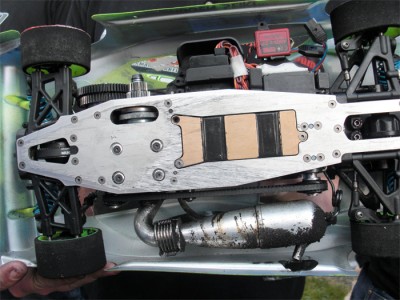 Not enough, Michael Heinrich became German Champion 40+ ahead of Joerg Baldes and Michael Salven. Simon Balk was awarded German Youth Champion in front of Dominic Greiner and Patrick Naehr, and Toni Gruber received a trophy as German Junior Champion followed by Dominik Zeidler.
The top ten of the German Nats
1. Thomas Guensel, 197 – Xray / Orcan / GP / Audi / Sanwa
2. Simon Balk, 195 – Xray / Orcan / Xceed / Audi / Spectrum
3. Michael Heinrich, 194 – Xray / Orcan / Orcan / Audi / KO
4. Dirk Wischnewski, 194 – Xray / Orcan / GP / Audi / Sanwa
5. Eric Dankel, 193 – Xray / Orcan / RPM / Audi / KO
6. René Puepke, 191 – Mugen / OS / UFRA / Audi / Sanwa
7. Bernd Rausch, 189 – Kyosho / Team Orion / Matrix / Audi / Spectrum
8. Joerg Baldes, 189 – Xray / Orcan / GP / Audi / Sanwa
9. Patrick Gassauer, 184 – Kyosho / Team Orion / GP / Audi / Futaba
10. Michael Salven, 119 – Serpent / Mega / Xceed / Audi / Sanwa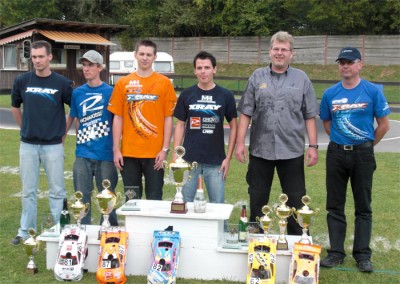 Statistics of the top ten: The biggest surprise might be that all finalists run the new Audi A5 body (mainly distributed by Orcan/SMI) which has been developed with intensive influence and testing from Dirk Wischnewski. In total there were six Xray NT1 among the top ten which were joined by two Kyosho and each one Mugen and Serpent. Nearly the same situation on the engine side: Six cars were powered by Orcan LR3 tuned by MH (Michael Heinrich). Furthermore there were two Team Orion Alpha engines and each one OS and Mega. Four drivers used GP tyres, handmade by Juergen Plan, two used Xceed (Enetti), one each Orcan (ATS), RPM (ATS), UFRA and Matrix.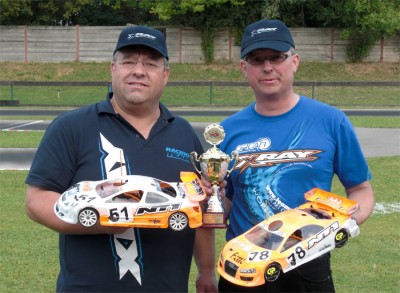 Looking in the material list of all 80 drivers in the official entry list, Xray is the leading chassis manufacturer with 26 cars followed by Mugen (22), Kyosho (16), Serpent (13), Shepherd (2) and one GM (with lots of self-made parts). The leading engine is Novarossi with 23, followed by Orcan (20), OS (11), Team Orion (7), three each of Mega, Max, RB and Capricorn, two each of IDM, GRP and Sirio and one Ninja.
All results can be found at www.myrcm.ch.
---