September 3, 2009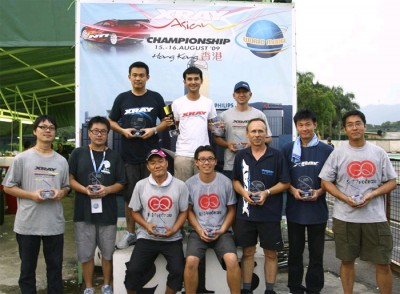 The first Xray Challenge in the nitro class where only NT1 cars were allowed to start was held in the Hong Kong. The race was held on August 15-16, 2009 at the big track situated approximately 60km from Honk Kong City. Drivers from Hong Kong, Thailand, Malaysia, Macau, China, Indonesia, Philippines, United Kingdom, and Slovakia participated in this race whose main purpose was to have fun and enjoy racing. Juraj and Martin Hudy attended the race to provide support to all Xray NT1 owners at the race. In total, the race was attended by almost 120 NT1 drivers. This number was fantastic mainly because all drivers used only one brand of car. The race was organized by Honk Kong distributor World Model.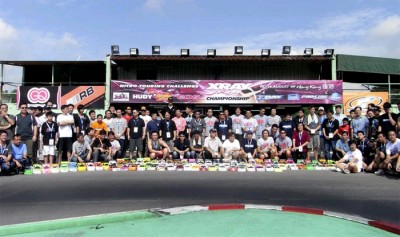 The race started on Friday with free practice, continued with qualifiers on Saturday, and last qualifier round and finals on Sunday. All racers enjoyed a lot of benefits like free transfer from the hotel to track, free fuel for the race, and no entry fee. Moreover, each driver got a team package which included an Xray T-shirt, Xray Challenge T-shirt, Xray towel, and spare parts for their NT1.
Practice was supposed to start on Friday morning, but unfortunately the weather was not on our side and it rained until the afternoon. The weather became better in the afternoon but the track was drying very slowly. Around 5:00PM the track became almost dry and all 113 NT1 racers could start their practice. Practice continued until well into the evening because the track was surrounded by lights so practicing in the dark was not a problem.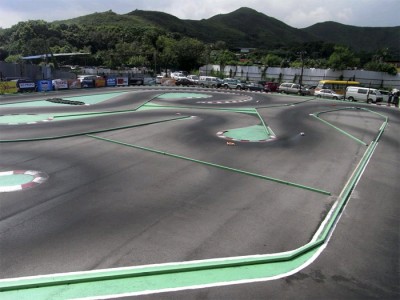 Sunny weather on Saturday morning made all drivers very happy and we could start the qualifiers. There were four rounds of 10-minute qualifiers on the schedule. Unfortunately the rain started again after the first round of qualifiers and we had to change the schedule from 4 rounds to 3 rounds.
The sunny weather on Sunday morning gave a good indication of a good racing day but we were still nervous that the rain could come any time like on Saturday. Luckily the weather was on our side that day and we could finish the rest of the qualifying rounds. TQ went to former World Champion Surikarn who found a very good set up on his NT1 and was able to drive fast and consistent lap times. Big help for him was his very fast mechanic Suwich, who is the Thailand XRAY distributor who joined the race along with 8 other Thai drivers. The second place overall finisher – really fast local driver Samuel Chiu – lost to Surikarn by less than 2sec over 10 minutes. The third position belonged to Hong Kong driver Leung Wing Wah. Martin, who had only two fuel tanks worth of practice, was able to make fast times and was leading almost all qualifying rounds; he finished 6th because he was not able to make 5 minute runs and therefore was the only driver in the final who had to do a 2-stop strategy which cost him a lot of time. Juraj was able to make the final as well when he finished 9th overall.
Top 10:
1. Surikarn
2. Samuel Chiu
3. Leung Wing Wah
4. Lau Yiu Kei
5. Chan Wai Tak
6. Martin Hudy
7. Suruth
8. Alex Chan
9. Juraj Hudy
10 Poon Chiu Him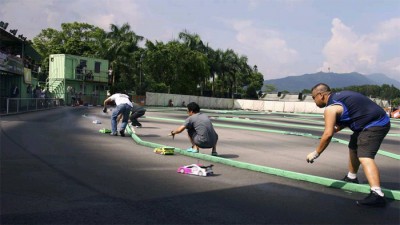 After the short break, the final rounds could start. It was awesome to watch all the finals because the drivers were driving very politely and courteously… it was certain that all drivers were enjoying the finals. The most exiting final was the B main when two drivers – Chriss Lee and Tiger Ho – were racing together the entire race. Racing side-by-side without any crashes was great to watch and all the spectators enjoyed watching this race. Unfortunately the leader of this final (Chriss Lee) after a hard battle was not able to win because he ran out of the fuel before his last refueling.
The A main final was interesting to watch as well. Surikarn (TQ) was able to hold his spot closely followed by Samuel Chiu. Martin almost immediately moved up into 3rd and started to push on Samuel but in 5 minutes of racing his car slid in the long sweeper and the driver behind him crashed him. Unfortunately, after this accident both drivers were on their roofs. Because the marshals were drivers' mechanics, Martin lost one lap and Surikarn was almost lapping him. Juraj had some bad luck as well when he flamed out and his mechanics had problems restarting his engine. Some other drivers flamed out as well and so the positions were changing very often. Surikarn drove very consistently and without mistakes, not giving anyone any opportunities to pass him and therefore he won the race ahead of Suruth. By the end, Martin was able to move up to 3rd place, finishing a half lap behind Surikarn. A big thanks goes to Martin's mechanics who were Dimas Ardian and his mechanic from Indonesia because they made really fast pit stops.
After the final all finalists shook hands with each other and were all very happy because all drivers enjoyed the race and all finalists finished the final.
Final Results:
1. Surikarn
2. Suruth
3. Martin Hudy
4. Samuel Chiu
5. Chan Wai Tak
6. Lau Yiu Kei
7. Leung Wing Wah
8. Alex Chan
9. Poon Chiu Him
10 Juraj Hudy
Immediately after the final was the awards ceremony. The Top 3 drivers from each final received a nice trophy directly from the hands of Juraj Hudy. All main finalists got a trophy as well. After the awards ceremony, Hong Kong distributor and race organizer Mr. Shiu organized a draw where the main prize was a 2009spec NT1 which went to British driver Paul Sikes. All drivers attended the drivers' dinner where there was plenty of excellent and sometimes exotic Chinese food which everyone enjoyed immensely. The shuttle bus arrived at the track in the late evening and this signaled the end of the successful race.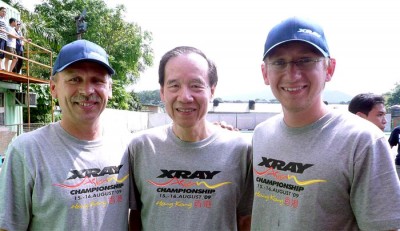 In the end, all drivers together with Juraj and Martin were more than happy with the whole race because they had a lot of fun and great racing. Drivers had a chance to compare their driving skills and race together with World Champion Surikarn, World's podium finisher Martin Hudy as well as with Xray NT1 designer and Xray owner Juraj Hudy. Martin and Juraj provided tech support for the entire weekend and were helping drivers with their set-ups. Both of them were warmly welcomed in Honk Kong and they made more than 100 pictures with local drivers and provide many autographs on body shells to all Xray fans.
Source: Xray [teamxray.com]
---