October 7, 2009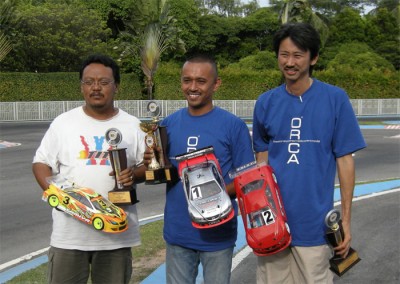 Round 3 of the Malaysian National Championship (MNC) took place recently at the usual venue at Titiwangsa Track in the heart of kuala Lumpur, Malaysia. Its been a few months since round 2 and there have been quite a number of changes to the drivers line up and the big news is of course the return of Azri Amri to the electric touring scene who is now driving for Team ORCA Racing with his Yokomo BD5. The other driver who has made a switch is Mr. Jackie Siow, the 2008 MNC Overall Champion and now driving for Team ORCA and Xray. The weather is as usual, not too sunny in the morning and all racers were hoping that the weather would hold up long enough to be able to complete the full race distance as there was a tendency to rain in the afternoon in Malaysia. The first qualifying saw Azri, Jackie and Tamiya driver Norazam finish the qualifying in those positions and as the weather got better, the sun came out and warrmed the track slightly and thus prevented any of the drivers to better their times in later rounds.
Starting Grid for Final:
1. Azri Amri
2. Jackiw Siow
3. Norazam
4. M Shah
5. Ismail Ibrahim
6. Michael Lo
7. Thomas Teo
8. Yap Chew Kong
9. Adrian
10. Leonard Pong
Leg 1 of the final saw Azri lead from pole taking the fastest lap of the leg for the win with Jackie a close second and M Shah taking 3rd. Leg 2 was a change of luck for Jackie as he went on to take the win for Leg 2 and clocking the fastest lap of the leg of 14.648 beating even the fastest lap that was set by Azri in Leg 1 and seeing Norazam taking 2nd and Azri coming in a close 3rd.  The battle field is set as Azri and Jackie each took a leg and Norazam desperately trying to get in touch with the two front runners. Leg 3 was the most exciting race by far as the two Team ORCA drivers were running neck and neck for the entire race distance. Although Jackie was able to up his pace and set the fastest lap of the leg, he was restricted to show his full potential as Azri took each corner as tight as he could thus blocking Jackie's continuous attacks. In the end both drivers crossed the line with Jackie 0.380sec behind Azri and Norazam finishing in 3rd, 1 lap behind the duo.
Final Standings after the race
1. Azri Amri
2. Jackie Siow
3. Norazam
4. M Shah
5. Leonard Pong
6. Thomas Teo
7. Michael Lo
8. Yap ChewKong
9. Ismail
10. Adrian
Thanks to Michael Lo for the report.
---