October 8, 2009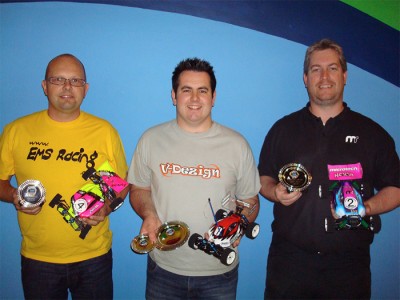 After the 6 month summer break, normal micro racing service resumed at Leighton Buzzard for Round 1 of the BRCA Micro Nationals. 68 drivers descended upon the quiet Brooklands School venue to see whether 2008 Champions Mark Stiles and Horizon Hobby's John Timberlake would be able to retain their 4WD and 2WD crowns respectively.
Pit Talk
Talk was split, throughout the day, between the wonderful hot food served by the Leighton Buzzard club, the new Phat Bodies SC18 'Blackjack' shell, and the noticeable resurgence of the 2WD class. After the 2008 Welsh invasion of the 2WD class, thanks to Craig Harris and Trackside Spares, the Thunder Tiger ZT2 still has the class dominance over its Losi counterpart.
The track laid out by the Leighton Buzzard club was a credit to their hard work and determination to better their previous 2008 National track. After speaking to Chris Hampson during the track build it was clear that the club had done a lot of thorough track build research in the off season. Taking the best points from last years Nationals the track not only allowed both new and experienced racers the chance to get around a fast and 'jumpy' course, but also showed thought and consideration at how the track was laid with smooth curved up ramps and a wonderfully constructed wall ride! Leighton Buzzard may have only have raced micros for a few years but they can certainly build a track!
Qualifying
2WD
Controversy reigned strong after the first round of 2WD qualifying after it was found that Danny Conway had entered the 2WD class with an LRP Shark ST running a reversed front one-way diff. cleverly taking advantage of a loophole, or totally against the spirit of the 2WD class? You decide. The jury will be out on this one for sometime I think!
Although running without front driveshafts from round 2 onwards Danny took TQ in each round followed by the mid mounted motor extended Losi Mini-T Pro of Steve Davis and the half-Shark ST-half-Mini-T Pro lovechild of Gavin Stephenson. John Timberlake's extended Mini-T qualified in 4th place with his best two round scores with Mark Dicks rounding out the top 5 with a near standard Thunder Tiger ZT2 and was the first 'short 2WD' not running an extended chassis!
1. Danny Conway – LRP Shark ST
2. Steve Davis – Prototype
3. Gavin Stephenson – Prototype
4. John Timberlake – Losi Mini-T/DT Pro
5. Mark Dicks – Thunder Tiger ZT2
4WD
After a Summer spent racing Rallycross Nationals Mark Stiles wrapped up qualifying after Round 3 with a 1st, 1st, 2nd using his '09 spec LRP Shark ST, closely followed by the ever consistent Keith Robertson. Keith and Mark put on a stunning display of driving during each round with very few mistakes. If anyone reading this wants to see consistent driving at its best then id advise watching either of these two during a heat! The next 6 drivers down to 8th place were all running the LRP Shark ST chassis with Matthew Drewett qualifying an impressive 9th overall with an FTX Blaze!
Although the majority of racers were running brushless systems Tony Bishop managed to barge his way into 8th overall with a brushed LRP Shark ST, a seriously impressive drive and a well deserved qualifying place!
1. Mark Stiles – LRP Shark ST
2. Keith Robertson – LRP Shark ST
3. Steve Davis – FTX Blaze ST
4. Danny Conway – LRP Shark ST
5. Cris Oxley – LRP Shark ST
Finals
2WD A-Final
Danny Conway sailed off into the distance with an uneventful final, only crashing once to give the others a chance to catch up, whilst Gavin Stephenson battled for 2nd place with Mark Dicks and Stuart Macdonald. Gavin, Mark and Stuart all finished on 16 laps although probably not a true representation of Gavin's ability but at least he had the points advantage over Steve Davis who retired after lap 9 with technical issues. Mark Dicks took 3rd place with a 0.5sec advantage to Stuart. Nice to see the ZT2 on the podium! After missing the loop on lap 4 due to an over eager marshal John Timberlake found himself against Ricky Macgough and Ashley Roat who kept him honest for the full 5 minutes, with John's extended Mini-T pipping the ZT2's to 5th position. With Jonathan Livingstone retiring on lap 7 it was down to National newbie Mat North to bring up the rear in 8th place. Not bad for your first National Mat!
1. Danny Conway – 19laps – LRP Shark ST
2. Gavin Stephenson – 16laps – Prototype
3. Mark Dicks – 16laps – Thunder Tiger ZT2
4WD B-Final
Frogger Products' Carl Venter dominated the 4WD B-Final with an extremely consistent 20 laps, only 2 seconds ahead of Matt Curtis after 5 minutes who in turn was a full lap ahead of Danny Beattie who came from 9th off the grid to work his way up to an impressive 3rd at the buzzer pipping Mark Everitt to the final step on the podium by 0.5secs! Ben Turner, racing his first ever Micro National, placed his 8.5 Mongoose powered ST to a commendable 5th place in front of Dan Harding and Tony Price with Andrew Dean, Rich Rimmer and Andy Vincent closing out the B-Final.
1. Carl Venter – 20laps – LRP Shark ST
2. Matt Curtis – 20laps – LRP Shark ST
3. Danny Beattie – 19laps – LRP Shark ST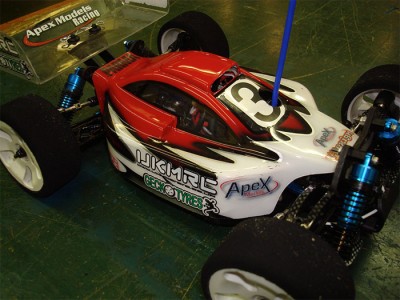 4WD A-Final
As was the case in qualifying Mark and Keith shot off into the distance to do battle with each other, managing to catch the pack up and lap all up to 3rd place after about 15 laps! Although losing 2 seconds on lap 8 to a small mistake Mark managed to pull an impressive lead of 6 seconds to Keith at the buzzer to wrap up his day with the A-Final victory. With Keith finishing in 2nd place it was down to Danny Conway, Tony Bishop and an impressive Matt Drewett to battle it out for 3rd with only 8 seconds separating them as they crossed the line for the final time. 6th was being fought for by Cris Oxley and Chris Bottle who had exchanged places all day through qualifying Cris only managing to pip Chris by 2 seconds. Gavin took 8th overall to Sam Clifton by a single second whilst Steve Davis was again plagued by technical issues and was forced to retire after 15 laps.
1. Mark Stiles – 22laps – LRP Shark ST
2. Keith Robertson – 22laps – LRP Shark ST
3. Danny Conway – 21laps – LRP Shark ST
For full details on how to enter, and all the latest BRCA Micro Section news please go to the new website here.

---