October 2, 2009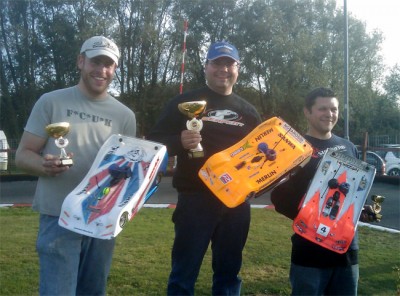 Round 8 of the BRCA championship was held at the Mendip circuit for the second time this season. With Bristol airport being a small drive away and due to the completion of the Irish season, a small contingent from Ireland arrived, including the vastly experienced Clive Connelly (Mugen) and Ian Campbell (Shepherd). The entry of 48 drivers was one of the highest all season and with the addition of some old faces, the future is starting to look brighter for this section. The weather forecast for the weekend was bright which would allow a lot of testing to be carried out in order to find the perfect setup. With top 200mm driver, Kyle Branson making an appearance for the first time this season and the presence of the top Irish drivers would make it difficult for the usual top 10 to be sure of a main final qualifying position and so the pressure to perform was considerably increased.
On Saturday, the track was busy from 10am and it was clear that Mark Green had a slight advantage but this was soon recovered by the chasing pack. Andy North was testing a longer rear top arm from the MRX4-R kit in combination with the Kyosho rear hubs. The rear end however had low rear grip mid corner and so reverted back to the shorter arm in the inner hub hole position. Also a test with the Kissling carbon fibre brake pads resulted in them being replaced to the standard pads since they would lock up due to having no progression. Once these Items were resolved and after an engine change moved Andy to the top of the leader board with a 15.23 sec lap time and with run time in excess of 5 minutes made him very happy. The remaining drivers were lapping in the 15.5 sec margin apart from Mark Green who was lapping 15.3 to 15.4 secs but these were consistent unlike the rest of the competition and would prove decissive in qualification.
Sunday started with a clear blue sky with a low level sun which was proving difficult to see the cars at the end of the main straight. Mark Green proved his domination yet again with a TQ run in the first round of 20 Laps in 309 secs. Tim Wood and Chris Heath also posted 20 lap runs to guarantee a final position at this early stage. Kyle Branson however also recorded a 20 lap run which assured him a final position and allowed him to concentrate on fine tuning his car for the final. The usual A final suspects where struggling to guarantee a final position with Andy North 8th, Neil Diver 10th and Pete Hastings 15th. An improvement by Andy who just missed 20 Laps and a last gasp 20 lap run in round 4 from Neil assured final places. Pete Hastings however had a poor day with a combination of car problems and radio issues and he failed to make the final. Its been a difficult back end to the season for Pete, but with his great knowledge and driver talent, he will son be back up the front of the grid! Watch this space.
The Top 10 qualification positions were as follows:
1. Mark Green (Serpent/Novarossi) 20 Laps 308
2. Tim Wood (Serpent/Mega) 20 Laps 311
3. Kyle Branson (Serpent/Sirio) 20 Laps 312
4. Neil Diver (Velox/Picco) 20 Laps 314
5. Chris Heath (Mugen/Sirio) 20 Laps 315
6. Clive Connolly (Mugen/IDM) 19 Laps 300
7. Richard Hicklin (Serpent) 19 Laps 300
8. Andy North (Mugen/Sirio) 19 Laps 300
9. Andrew Hastings (Serpent/IDM) 19 Laps 301
10.Daniel Bancroft (Motonica/MAX) 19 Laps 303
The main final got underway from new grid positions around the infield to prevent the potential for a first corner crash and to allow the pit men to safely get back to the pit area. Mark Green upfront pulled out a gap and then disappeared into the distance for a good win. The battle was for 2nd and 3rd positions which turned out to be a mini classic. Tim Wood was about half a lap up on the chasing pack of Neil Diver, Andy North and Chris Heath. At this stage Chris Heath's car was the fastest but with average fuel stop speeds! and back markers allowed the gap to Neil and Andy to be fairly consistent until all 3 where bumper to bumper at mid race. A slight mistake by Neil allowed Andy through and a gap started to form giving Andy some breathing time and a possible chance of catching Tim. However, a rear belt snapped and prevented this which was a very bad luck but since we sand the belts to help free up the car, we must now change them prior to every final. Tim at this point also stripped a gear which put him out of contention. This allowed Neil and Chris to battle it out for second place which was won by Chris who had a faster top speed due to Neil's tires being very low.
The results are as follows:
1. Mark Green (Serpent/Novarossi) 114 Laps
2. Chris Heath (Mugen/Sirio) 111 Laps
3. Neil Diver (Volex/IDM) 111 Laps
4. Clive Connolly (Mugen/IDM) 110 Laps
5. Andrew Hastings (Serpent/IDM) 108 Laps
6. Daniel Bancroft (Motonica/MAX) 108 Laps
7. Tim Wood (Serpent/Mega) 104 Laps
8. Andy North (Mugen/Sirio) 86 Laps
9. Kyle Branson (Serpent/Sirio) 19 Laps
10.Richard Hicklin (Serpent) 2 Laps
The last round of the Championship is at the Cotswold circuit were the Championship title will be decided.
Thanks to Andy North for the report and photos.
---