October 20, 2009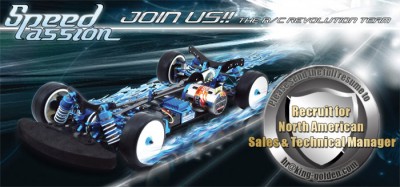 Speed Passion have dropped us a mail to tell us that they are looking for candidates to apply for their new Sales and Technical manager position for the North American market. The applicant must be well qualified, experienced and knowledgeable on RC in either a personal or professional level. Full information on the job can be found below.
Speed Passion since 2005 Nov, Our mission is to be driven by revolution idea and designs. We take great passion in creating, engineering, manufacturing and supporting our own product. For the past 3 years our brand has released many new innovative products into R/C market and our product has been reward as No.1 by winning many large race events such as the 2008 IFMAR World Championships, 2008 IIC, 2008/09 ETS, 2009 DHI Cup and 2009 European Championships. Our future is to bring more new ideas and products and ensure our technical support are total performance and satisfaction to our customer.
In order to meet our target we are looking for a right team member to join us, to help us fulfill our new mission and growth together. The Sales & Technical Manager plays a key role in communicating to consumers and dealers not only the details about the product, handle inquiries, provide technical support and quality sales service to clients are essential.  Passion and dedication that goes into creating, manufacturing, and supporting each one.  Direct report to management to develop and execute marketing materials that properly and consistently communicate and maintain company objectives, strategy, and mission. Executes programs to support and increase sales around those items, utilizes their passion for the product, along with their marketing and technical experience, to seek out new and creative opportunities for product and brand exposure. A strategic mindset, experience, and tremendous attention to detail help the product R&D team to evaluate new opportunities.  Direct overseas all media and promotional content (web, print, packaging, video, etc.) for specific products ensuring timeliness, technical accuracy, and consistency with company objectives. The position has a high level of front-line responsibility so strong organizational skills and extreme attention to detail are a must.
Requirements:
– A Bachelors degree in Marketing or Business and 3-5 years of related experience
– Personal or professional involvement with radio control, or other performance based hobbies is a plus.
– Demonstrated attention to detail, organizational skills and time management skills
– Proven ability to coordinate and drive toward specific, deadline-driven goals.
– Understanding of media, promotional and web production techniques
– Demonstrated excellent written and verbal communication skills
– MUST with good knowledge and hands-on experience in Distributorship Development, Selection, Qualification, and Management, able to apply KPI on Distributorship Performance
– Initiative, outgoing, energetic and sales-oriented
We are proud to offer well-researched compensation packages designed to make employees for life. In addition to a competitive salary, our benefits include profit sharing.
Forward your resume including salary history and requirements and a relevant cover letter to hr@king-golden.com subject "Sales & Technical Manager". Equal Opportunity Employer.
---