November 30, 2009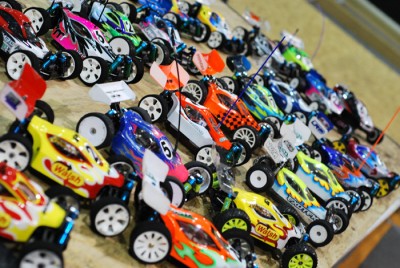 Round 2 of the Micro National series saw 54 drivers brave the November rain and wind on their way to the wonderful Liberty Ballroom facility in Newbury. Having hosted some extremely successful 1/10th offroad indoor meetings over the past few years the Newbury RC Club were more than able to lay out a great track that would not only challenge the top runners but also allow those lower down the order to get around without too much trouble.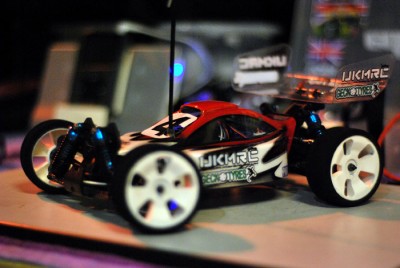 In The Pits
With X-Factory UK announcing their recent appointment as the UK's sole distributor for the EXOTEK range of micro chassis conversions thoughts were as to who would emerge as Team EXOTEK drivers in the coming weeks, and whether the new TEK18T chassis could ever give the LRP Shark ST Pro a run for its money. Sam Clifton's GM micro sensorless brushless system had a few of the top drivers giving praise at how fast his car was down the main straight whilst word of new Gecko foams being tested by the Gecko team had everyone watching the foam –vs- rubber war as it unfolded.
2WD Qualifying
Danny Conway's Mongoose powered 2WD LRP Shark ST took the top spot in the first three rounds and allowed Danny to sit the final round out safe in the knowledge that he had secured the 2WD pole position. With Danny sitting the 4th qualifying round out Gavin Stephenson took advantage of the Round-by-Round points system to finish 1st in round 4, therefore qualifying second overall in 2WD with a very consistent Michael Spindley close behind in 3rd. Cris Oxley lead a strong charge of five Thunder Tiger ZT2's in 4th place, the highest qualifying non-extended 2WD on the day.
4WD Qualifying
TrakPower's newest signing Mark Stiles dominated qualifying throughout the day, his LRP Shark ST finishing first in three of the four qualifying rounds whilst being hounded by Keith Robertson's FTX Blaze ST. Danny Conway, Steve Davis and Tony Bishop all battled hard for points during the runs with Danny starting third in the A-Final in front of Tony and Steve with all three split on count-backs! Sam Clifton took 8th place on the starting grid with a new GM sensorless micro brushless system, with GM taking a lot of the spoils in the bigger classes does this signal the start of a sensorless comeback?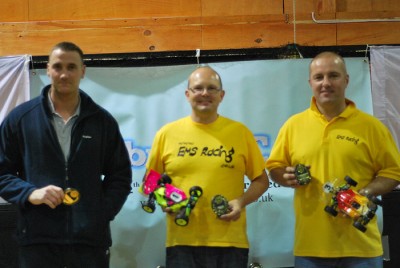 2WD Final
All 11 drivers took to the carpet for the 2WD A-Final with Gavin Stephenson and his trusty pit man Stuart seemingly asleep in the pits as the start tone sounded! After getting caught up in the pack on the first lap Danny set off to clear the main pack by a comfortable 7 seconds with Michael Spindley's 2WD Shark ST comfortably in second place. Gavin drove out of his skin to a well deserved third place, only one second in front of Dan Osborne's Exotek MXT whilst Cris Oxley had to settle for 6th overall after a ball cup popped off losing him 30 seconds. Mark Williamson took 5th place at the end with a very good run to set his confidence high going into Round 3 at Dudley.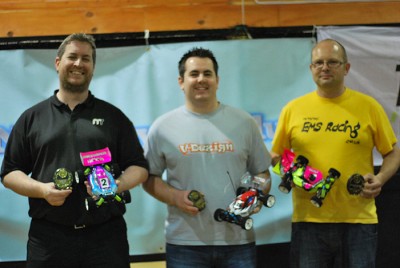 4WD A-Final
Mark Stiles once again stole the show, posting 16 laps all within 0.9secs of each other and not a single mistake. Mark is certainly reinforcing his reputation as an offroad driver to be contended with! As Mark set off into the distance it was left to Microtech's Keith Robertson and EMS Racing's Danny Conway to battle it out between each other for 2nd and 3rd on the podium. After some epic battling and nerve racking moves it was Keith that took the 2nd place trophy by a mere 6 seconds to Danny. Tony Bishop pipped Steve Davis to 4th place by 0.1secs with Sam Clifton doing a sterling job to take 6th place only 0.3secs behind Steve. Dan Osborne, Steve Biscoe, Andy Vincent and Chris Bottle rounded up the 4WD A Final.
4WD B-Final
Newbury proved somewhat of a challenge with some of the more regular A-finalists such as Gavin Stephenson and Cris Oxley placing mid pack of the B-Final. Jamie Conway added another gold trophy to the Conway trophy stash with a smooth and consistent drive to clear the entire field by a lap. SMD's Cris Oxley, WORM regular Dan Harding and "one to watch" Matt Drewett finished 2nd, 3rd and 4th respectively separated by only 4 seconds while Rich Rimmer, John Toman, Ben Marzec and Tony Price finished close behind with only 9 seconds separating the four battling drivers with Hereford's Ben Turner rounding out the B-final top 10. Never has a final been so close between so many drivers!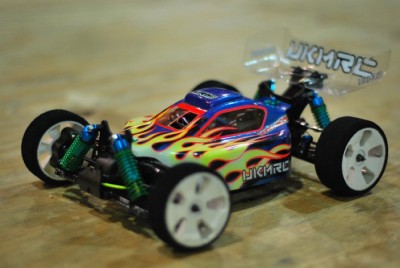 The Micro Nationals take a trip up the M6 to Dudley for Round 3 in December, a new venue for the Micro calendar and one that is sure to entertain all those who have booked in. As we go to press Dudley looks set around 60 drivers before late entries! The Micro Section Committee would like to thank Andy, Kev and the Newbury RC Club for laying out a superb track and running a faultless meeting. Wim at Action Model Centre for once again supporting the Nationals with the AMC Shop. All the websites, forums and RC magazines that allow us to post and promote the micro section to the masses and to the drivers that braved the terrible weather to make Newbury a brilliant day for all.
Source: BRCA Micro [brcamicro.org]
---