November 10, 2009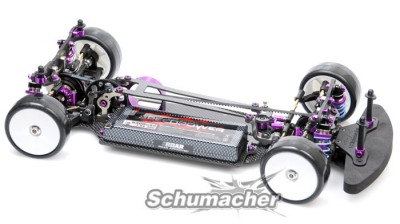 Schumacher have introduced the Mi4LP, their next high performance electric touring car. Designed by Schumacher's world championship winning engineering team, led by Phil Booth and developed by 5 time British touring car champion Chris Grainger and the Schumacher Race Team. Touring cars are changing and once again the Schumacher design team have hit the mark with the Mi4LP. With the universal usage of LiPo battery technology and now new lower weight limits, massive consideration has to be taken with left to right weight balance. With the introduction of the new narrow LiPo chassis, adjustable motor position and ability to flip the transmission the Mi4LP can be balanced perfectly whatever your radio choice. This new chassis of course retains many of the features that have dominated the domestic touring car scene over the last season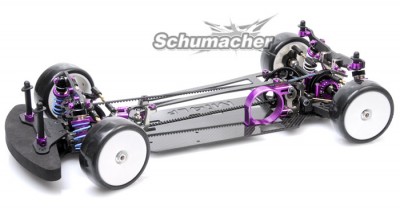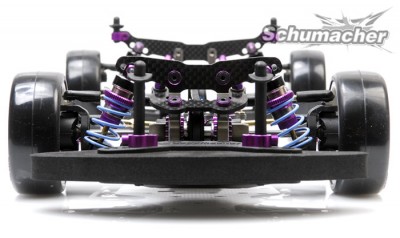 Pro Specifications
-New narrow Aerospace carbon fibre chassis optimised for both LiPo and lower weight limits. Narrow chassis also prevents corner grounding increasing mid corner traction.
-New quick release layshaft design with single sided mounting for improved flex through the transmission.
-New ability to flip transmission to change weight balance for any choice of radio gear.
-New black slim lightweight CNC machined diff and spool pulleys.
-Efficient transmission with twin Kevlar belts and New precision black CNC pulleys.
-New Shorter & Stiffer carbon fibre wishbones for increased traction and corner speed.
-New Xtra flex yokes for more steering and improved impact absorption.
-Clamp motor mount to adjust motor centre line position and therefore side to side weight distribution. The car can be perfectly balanced with any lipo and choice of radio gear.
-Split rear transmission housing with options to adjust chassis stiffness, combined with long top deck design to optimise chassis flex and increase traction and corner speed.
-Optimised carbon fibre upper link design with options to adjust roll centres.
-Centre point steering with forward facing balls to fine tune geometry. Fully adjustable Velocity Ratio, Ackermann Angle and Ackerman Rate.
-Ultra Low Anti roll bars, with anti roll bar mounts with precise vernier adjustment to minimise play.
-Purple alloy lightweight O ring retained wheel hexes.
-Strong lightweight molded pivot blocks with optimised roll centre for most conditions.
-Adjustable track width and toe in.
-Stiff 3mm shock towers with multiple shock positions incorporating wide rear body mount for better stability & traction.
-Optional alloy twin pivot block system allows infinite adjustment of roll centres, toe-in, anti-squat, and track width on front and rear.
-Fully adjustable, suspension geometry, wheelbase, caster, camber, roll centre, track width, ackerman, droop, anti dive, anti squat, (with optional blocks) front toe in/out, ride height and much more.
-Alloy eccentric adjusters for optimum belt tension. Easy diff height adjustment to allow changes in drive shaft plunge. This can be used to increase or decrease traction.
-Quick release diffs – Just 2 screws!!
-Super easy to work on design.
-Symmetrical chassis layout with few screws minimises tweak, including non load bearing motor mount for perfect symmetry.
-Ultra smooth Nickel-Teflon plated threaded alloy shock absorbers for extreme smoothness and durability.
-Alloy CV drive shafts with sprung steel axles and low friction blades.
-Lightweight machined black diff pulley, Ceramic diff balls, aerospace thrust bearing.
-Heavy duty front spool with new lightweight CNC pulley
-Narrow efficient thin back belts.
-Lightweight foam bumper.
-Strong steel pins and turnbuckles.
-Purple alloy M3 and M4 nuts.
-LiPPo battery fixing with tape or optional battery strap with mini LiPo locators.
-Speed secret parts available to fine tune to all track conditions.
-Available in kit or assembled versions.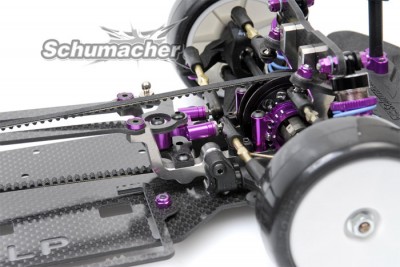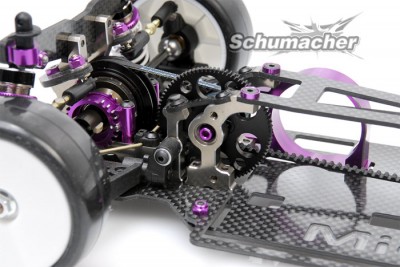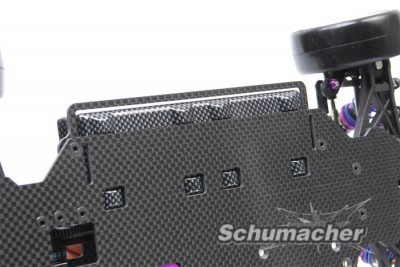 Available also in the popular RACE version for racers with an eye on cost. Great performance, strength and great price!!!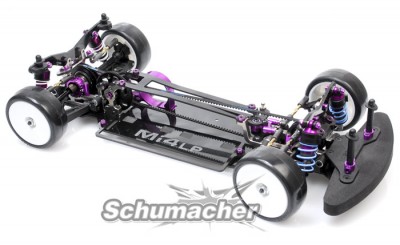 Race Specification includes:
-Tough S1 composite chassis and top deck with optimised flex.
-Tough S1 composite shock towers.
-Simplified shock design for ease of use.
-Plastic driveshafts & hexes with steel axles.
-RACE spec carbon chrome diff balls & thrust bearing.
-Short Medium flex wishbones for improved impact absorption.
-Due end November.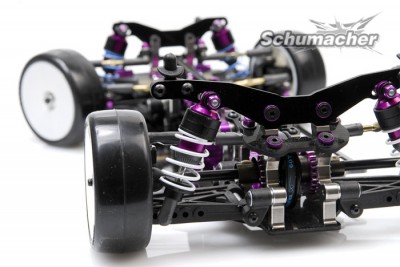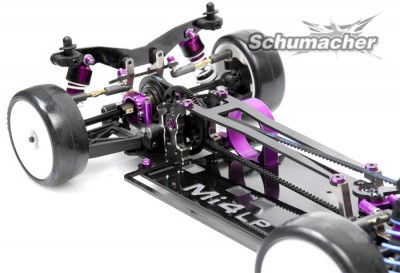 Source: Schumacher [racing-cars.com]
---