November 30, 2009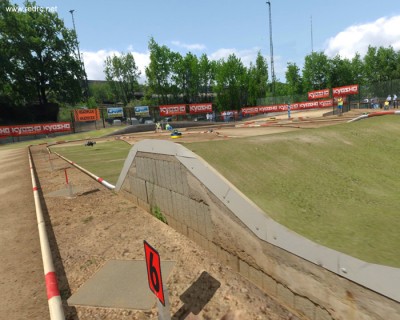 VRC v3 is purely an on-road racing sim. Still we see quite a few off-road racers competing in the VRC on-line competitions. Also our Quarterly Progress Monitor indicated that a good number of off-road racers use VRC to improve their racing skills. Although off-road requires some very special skills to control the cars during flight and landing, off-road racers are benefiting of the precise steering and throttle control needed to race a model car around a tight track with 100 km/h + speeds. Even off-road 'basher' communities are getting involved in VRC and are setting up their own private clubs in VRC.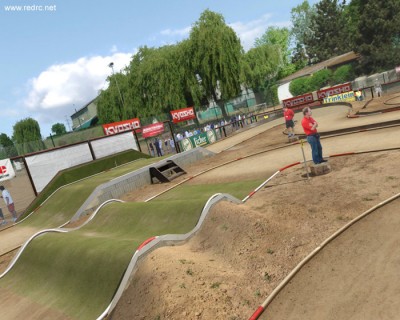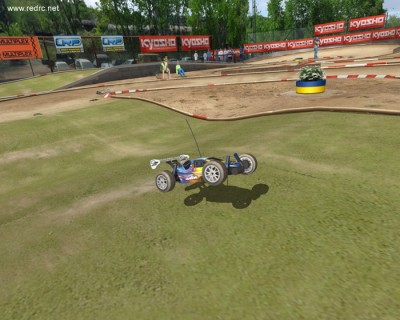 The most frequently asked question no doubt is if off-road will be featured in VRC Pro. The answer is YES, but it will be introduced after the new VRC Pro platform is launched. First we will offer nitro and electric on-road cars and tracks, later to be followed by nitro and electric off-road in 1:8 and 1:10 scale. VRC Pro is a generic platform that will eventually support all popular r/c racing classes. We just can't do them all at once. Off-road requires a lot of extra research into the vehicle dynamics, especially the tires. On top of that we will need to model the cars and the off-road tracks. So still a lot of work to be done for off-road, but it will come.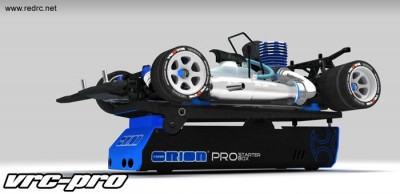 VRC Pro Realism
As a teaser of what is to come in VRC Pro we are offering you some more insight about the realism of VRC Pro. For instance, when you are racing in any of the nitro classes you will be invited to select your starter box. As an example the Orion Pro starter box has been modeled. When racing electric you will be able to configure your pit table with a battery charger and tire warmer of your choice. Tools can also be selected and are used to unlock certain setup features to your car. Tools can be purchased with VRC dollars or with VRC credits earned in racing competitions. VRC Pro is true virtual reality, in all aspects, on and off the track…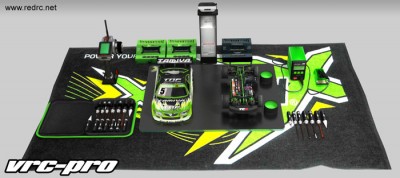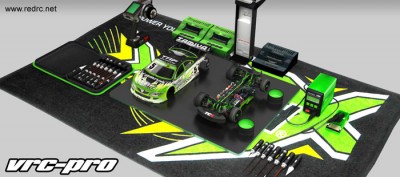 Tip of the Month: Add a VRC Adaptor to your R/C equipment now
You are an avid r/c racer and live and breathe your sport? And you do have a computer able to play games? Then no longer wait and get a VRC adaptor now. It is a small investment into your hobby but with great added value, it will be the best $20 or $35 you have ever spent on your hobby. Once you have the adaptor a whole new dimension will be added to your favorite hobby. There are weekly races on the free Oslo and RC Speedway tracks where you can join at any moment. There are often races where the track is offered for free just for that event.
Having the VRC adaptor readily available opens the possibility to go r/c racing any time you like, in just a few seconds, and from the comfort of your home. There is the VRC-3 and the VRC-3NT to choose from. The VRC-3NT is a bit more expensive but will surely work with all brands of radio's including 2.4Ghz sets. It offers 16-bit resolution, the VRC-3 just 8-bit. Both adaptors can be used with VRC v3 and the new VRC Pro platform. Shipping cost included! So what are you waiting for?
'Come back kid' Luciano Assis takes 2009 1:10 TC Series
After an absence of almost 2 years Brazilian VRC racer Luciano Assis has made his come-back in great style winning the 2009 World Touring Car Series. Joining the series at race 3 with 6 races to go of which 5 would count, he managed to win 5 of them, the last race at Fiorano being decisive for him. Assis had to battle it out with Frank Hättich from Germany and needed a win to seal victory, and this was exactly what he did, but just with a 5 second margin! Antonello Parisi completed the podium with a solid 3rd position overall.
Young Luciano, who earlier this year lost his job and was in need of a VRC adaptor before returning to VRC racing, was helped out by Frank Hättich. The German showed great spirit and sportsmanship by sending one of his own VRC adaptors to Brazil to enable Luciano's come-back into VRC.
For more information about VRC go to the game website here.
---