December 7, 2009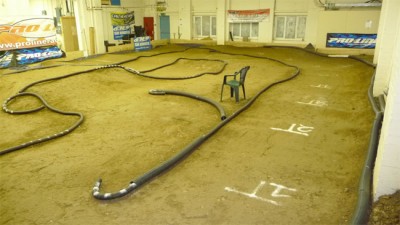 Last Sunday saw round 2 of the PDA winter series take place at Bicester. With a brand new track layout the drivers and spectators were sure to see more intense close racing. There were some noticeable absentees in the 2wd class with Tony Truman, Richard Barton and Simon Willets all unable to attend. This allowed the likes of Alex Springer and Keith Newton to gain much needed points. In qualifying there were several drivers who showed good pace but following the 4 rounds it was Alex Springer (Atomic Carbon) on pole with Keith Newton (B4) behind and Scott Follington (B4) rounding off the top 3.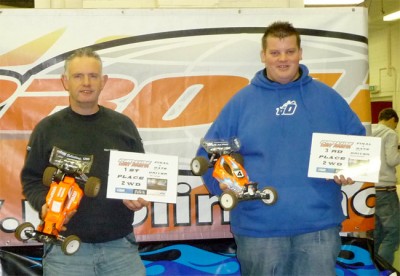 The 3 legged finals were dominated by Springer winning all 3 legs with Newton coming 2nd and some very consistent driving from Richard Saunders (B4) taking 3rd.
The 4wd class was a different story. All of the top 3 drivers following round 1 were present. Jon Dell (B44) was the championship leader followed by Rob Rasey (B44) and Mark Dell (B44). Alex Springer (Durango) and Keith Newton (B44) were also racing 4wd so that would mix things up and ensure that qualifying would be close and the drivers did not disappoint.
In all 4 rounds these top 5 drivers all showed excellent pace and the much coveted TQ spot was up for grabs. Springer was looking comfortable for just that until round 4 when he broke and Rasey threw down the gauntlet. It was a faultless run but was not quite enough to take the pole position. The Final positions were Alex Springer in pole followed by Rob Rasey, Jon Dell and Mark Dell. The 3 legged main was sure to be very competitive with all drivers searching for those championship points.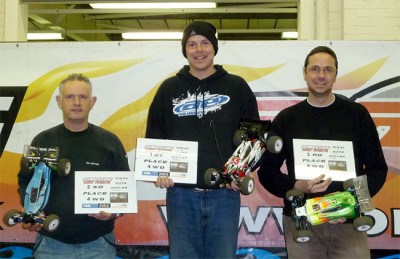 Leg 1 was a comfortable win for the pole man and Jon Dell finishing 2nd. Jon had struggled with the track during qualifying but now he had seemed to get things together and was now driving as the series leader. Rob Rasey came in 3rd following several mistakes but knew his pace was good so the next race could not come quick enough for him. Leg 2 would be all change with Rasey taking the win and once again Dell in 2nd. Springer had damaged his steering so Keith Newton claimed the 3rd spot. The leg 3 decider would see a top 3 show down to take the victory. The final had a clean start with all cars in order for the first minute or so. A mistake from Springer allowed Rasey to make a pass. Jon Dell suffered a gearbox failure so would not feature in the ever evolving battle between the top two. Springer pushed his car to the limit but Rasey held his nerve and cruised to the win and with it replacing Dell as the new championship leader.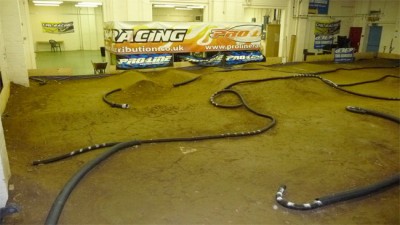 Drivers will now have to wait until the New Year before round 3 on Jan 10th but with the ever growing popularity of 10th Off Road at PDA it will be another well attended and competitive race meeting.
Source: CML [cmldistribution.co.uk]
---