December 25, 2009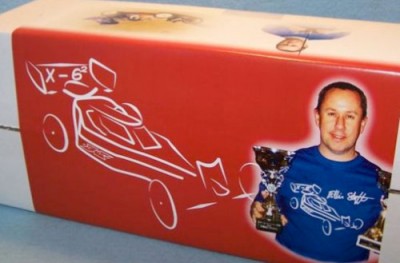 X-Factory have announced the limited release of a special 'Ellis Stafford' Championship Edition X-6 Squared conversion Kit, which will be available from dealers in the U.K and France. Celebrating Ellis' fantastic back-to-back BRCA 2WD National championship titles and TQ at the 2009 Euros, now customers have the chance to buy the car that closely represents that which Ellis uses with all the optional tuning and cosmetic parts found on the champions buggy. Limited to only 50 pieces customers must act quickly before they are gone. The buggy brings together all the standard features of the X6 Squared, including the mid motored concept, 4 gear transmission, LiPo friendly one piece chassis design and many more unique features with the addition of components from no less than nine outside manufacturers to bring you this kit.
The full list of additional parts over and above the standard K019 X6 Squared Conversion are as follows:
E-Speed – ES001 Blue alloy rear camber links
E-Speed – ES002 Blue alloy motor plate brace
Dirtz Dialled Partz – DDP024 Blue alloy lightweight milled motor plate
Dirtz Dialled Partz – DDP025 Precision alloy suspension shims (2 sets)
Rudebits – Complete Brass Weight Distribution kit
X-Factory – XF1006 Plastic Chassis replaces graphite
X-Factory – XF1225 Quick Change LiPo battery retainer kit
X-Factory/MIP – XF2601 Steel trailing front wheel axles
X-Factory/MIP – XF5661 Extra Droop long rear CVD axles and spacers
Lunsford – complete set Titanium turnbuckles (6)
Lunsford – complete set Titanium broached ball studs (14)
Losi – A6016 Heavy Duty grey ball cups
J Concepts – JC0103 Front air dam/wing
Associated – AS9593 30 Degree front castor blocks
Ellis Spec – Wing mounts and AE Blue flanged washers for wing
Ellis Spec – roll bar mounting kit featuring a special slotted rear bulkhead,
titanium 1" sway bar links, ball joints and HD ball ends
Decal Designs – Special Edition Ellis Spec decal sheet
Plus
A special addendum to the instruction manual written by Ellis himself – Step-by-step, Ellis shows you the slight changes that produce Championships.
Source: X-Factory [xfactoryrc.com]
---