January 26, 2010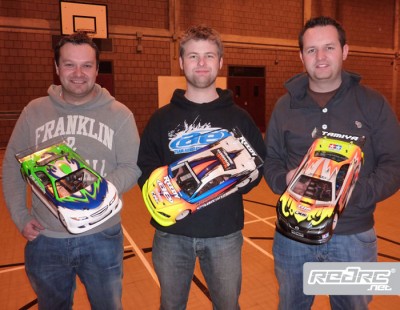 The opening round of the 2010 Irish Touring Car Series took place in Bangor, Northern Ireland, over the weekend where it was defending Champion Alan Bickerstaff who claimed the win. Attracting a healthy entry, the event saw Bickerstaff put his Novak powered Associated TC5 on pole after a determined TQ run in the final qualifier. The opening Leg of the A-Main saw the Team Associated British Championship team driver lead early on followed by the Tamiya's of Mark Gilliland and Keith Dempsey but 2 minutes in Bickerstaff came undone as he tried to pass a back marker. This handed Gilliland the race lead but with a minute left on the clock he 'binned it' allowing Bickerstaff back through to take the win with Dempsey completing the Top 3. In the second leg Bickerstaff had a straight run through to victory as Gilliland and Dempsey fought over second. Having held second for the early part of the race Dempsey could not hold off Gilliland who eventually found a way passed but it was too late for him to mount a challenge for the win meaning the podium was a reflection of the Top 3 starting order. Having started from the back of the grid John Matthews enjoyed one of his best ever performances to finish fourth overall.
Touring Car (10.5T)
1.(1) Alan Bickerstaff (Associated/Novak/Novak) – 2 [1 1]
2.(2) Mark Gilliland (Tamiya/GM Racing/GM Racing) – 4 [2 2]
3.(3) Keith Dempsey (Tamiya/LRP/LRP) – 6 [3 3]
4.(8) John Matthews (Associated/LRP/Novak) – 9 [5 4]
5.(7) Gary Jess (Schumacher/Novak/Novak) – 10 [4 6]
6.(5) Mark McCracken (Schumacher/Speedpassion/Novak) – 11 [6 5]
7.(6) Andrew Rennick (Associated/LRP/Novak) – 14 [7 7]
8.(4) Graham Kenny (Schumacher/Nosram/Speedpassion) – 16 [8 8]
In the supporting 1:12 class Serpent S120 driver Michael Byrne dominated proceedings. Staring from pole he easily won both Legs of the final to claim the win ahead of Jim Heal and Jim Lee. In the Tamiya Mini class Top Qualifier Colin Whelan won the opening Leg from Oisin O'Briain who reversed the result in Leg 2 to leave the pair tied on points but Whelan was declared the winner with David Collins completing the podium.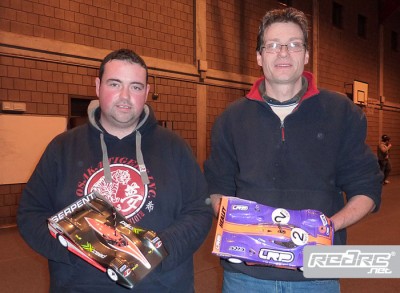 1:12 (Top 3)
1.(1) Michael Byrne (Serpent) – 2 [1 1]
2.(2) Jim Heal (CRC) – 4 [2 2]
3.(3) Jim Lee (Corally) – 6 [3 3]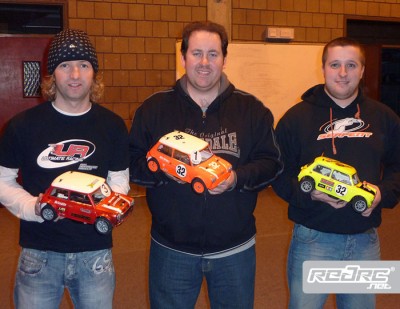 Tamiya Mini
1.(1) Colin Whelan (Tamiya M05) – 3 [1 2]
2.(3) Oisin O'Briain (Tamiya M05) – 3 [2 1]
3.(6) David Collins (Tamiya M05) – 8 [3 5]
Source: Hobbies Ireland [hobbiesireland.ie]
---