January 23, 2010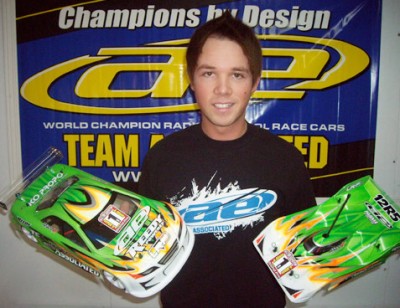 Keven Herbert reports on the third leg of the NEGS (Northeast Grand Slam Series) was held the weekend of January 16-17 in at Tri-State Hobbies in Cincinnati, Ohio. Having missed the second leg of the series, I had some extra pressure to do well now that I had already used my one throw-out. Friday was practice all day and early on I was very happy with both my TC5R and 12R5.1. Along with Paul Ciccarello, I was setting some of the fastest lap times in both Pro Rubber class and Pro 1/12 Class. Chris Goetz was also showing some early speed and was turning some fast laps with his Schumacher car in the rubber class.
Three rounds of qualifying were scheduled for Saturday. At the end of the day, I had secured TQ in both the Rubber Touring Car and 1/12 classes with a comfortable five-second lead in TC and six seconds in 1/12. The last round of qualifying and the mains were scheduled for Sunday. In the last round, I made a minor change to my TC5R and during the warm-up lap, I knew it was going to be a good round! I improved my overnight TQ by a little over two seconds to secure TQ with Chris Goetz in second, Paul Ciccarello in third, and Robbie Dodge in fourth. In the last 1/12 qualifier, I ran fresh tires for the first time; and it was the right way to go. My car did not get loose halfway through the run like it did with rerun tires so I was able to improve my time by five seconds. After qualifying was over, I was TQ with Steve Radecky in second, Mike Pulfer in third, and Paul Ciccarello in fourth.
The A Mains went just as well as qualifying. In TC I took off at the start with Chicky taking the second spot from Goetz early in the race. While they fought for position, I had a clear track in front of me which allowed me to extend my lead. I was able to maintain the gap and win the main. Craig Xavier finished second with Chris Goetz in third, and Paul Ciccarello in fourth after a big crash on the last lap.
In the 1/12 Pro A Main, the tone sounded and two laps in I lost the lead after hitting a turn marshal in the middle of the track. Mike Pulfer went by into the lead with Chicky right behind me. We ran like this for about four laps until Pulfer made a mistake and I took the lead again. Chicky stayed close to me the entire race but I was able to hold him off and take the win. Paul Ciccarello finished in second with Aaron Buran in third.
Source: Associated [rc10.com]
---