January 25, 2010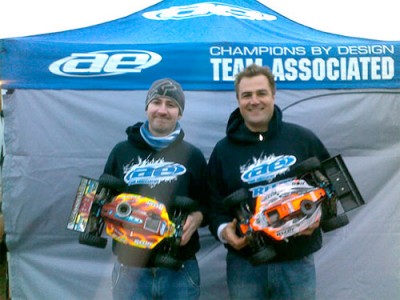 CML are reporting on the latest round of the SNRC winter series that was graced by the attendance of a few of the top national drivers, aiming to do battle with the fast local drivers on this challenging track. The Stoke track is a good blend of fast and technical sections with quite a few jumps to test the drivers ability. As is to be expected in winter the track was damp early doors and the obligatory Hobao Angle spike tyres were heavily in evidence.
In round 1 it was RB powered Graham Alsop who took the fastest time, just in front of Associated/Reedy man Craig Drescher. This meeting was being run to FTD qualifying so good times were important especially when the drivers started getting used to the track.
In round 2 national champ Neil Cragg and team mate Drescher had fantastic qualifying duel, where both drivers realised they were running very close and both set their fastest laps on the last laps as both pushed for that bit extra. As it was Neil came out on top with a time 1/10 of a second quicker than Craig.
For the final round Craig made a small clutch set up change, and this gave him just that extra bit of traction that allowed him to go on to take the overall TQ time, with Neil 3 seconds back in second and John Holmes in 3rd. The Hobao guys got themselves together in round 3 with John Howells putting his Hyper 9 in 6th, and new recruit to the team 12 year old Joe Adams only 1 second back in 7th. Jason Fowler placed his RB powered RC8 in 8th and Mark Redmond's Hyper 9 was 10th.
The main finals saw quite a bit of rain fall and as a result the chances of getting water in the electrics would raise its head. Craig lead away from pole and in the early stages it was in a close battle with Neil and a fast starting Elliot Taylor who was showing well. Craig managed to pull a small gap, with Neil chasing and then Craig got sideways off a jump and this allowed Neil to get a run up the inside for the block pass at the raised corner. Very soon afterwards Craig was getting the electrical gremlins and would have to retire due to water intrusion.
As the race unfolded Neil was leading and keeping a steady pace, while a hard charging Graham Alsop was reeling him slowly. Graham had suffered a poor start and was chasing hard to make up time. After Neils final stop, he came out just behind Graham with a couple of minutes to go and set about chasing him down. Graham helped Neil in his cause by running too hard into the banking at the end of the straight, and going clean over the top of it. this gave Neil the lead back and allowed him to cruise to victory, with Graham 2nd and John Howells 3rd with his Hobao/RB combination.
Source: CML [cmldistribution.co.uk]
---