January 29, 2010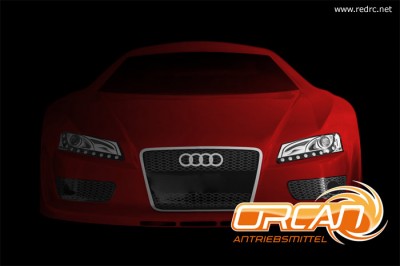 With immediate effect the straightaway successful and popular Audi A5 touring car body of ORCAN is available not only in 200 but also in a 190 millimeter version. And both bodies already offer the necessary homologation numbers of EFRA, number 2033 for the 200mm nitro body and 4022 for the 190mm electric body.
The Audi A5 looks very true to the original and also offers an exceptional performance. At the debut of the 200mm version at the German Championship in September 2009 the new Audi body was used by all ten finalists. "An outstanding success, which resulted in a remarkable demand from all over the world", says Bertram Kessler of SMI Motorsport, who is selling the Audi A5 body – non exclusively – inside of the SMI product line ORCAN. Together with the SMI/Xray team drivers Dirk Wischnewski (European Champion "A" 200mm nitro 2009) and Freddy Suedhoff (European Champion "B" 200mm nitro 2009) Bertram Kessler has been significantly involved in the development of the Audi A5 in a close co-operation with German body maker TRT/SLB. More than ten development steps led to the finale body with its sophisticated and striking aerodynamic.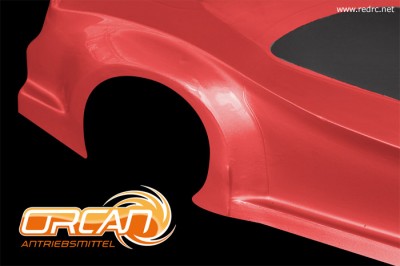 The new 190mm version is not only a shrinkage of the 200mm body but the result of a selfcontained development for the special requirements of an electric touring car. "In comprehensive testing the 190mm Audi has been adapted to the needs of an electric touring car. In comparison to the 200mm version, a couple of essential modifications have arisen for the 190mm body", explains Freddy Suedhoff, finalist at the DHI Cup 2010. "Beside the spectacular look both bodies offer a huge front end grip and an excellent balance and driveability." Like its "big brother", the car balance of the electric body can be affected by the position of the massive rear wing and also its important side flaps.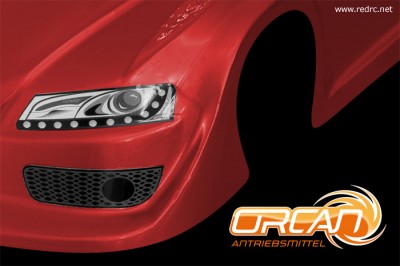 The ORCAN Audi A5 suits perfectly to the current 1/10 scale nitro and electric touring car chassis. As usual both bodies come with a protection film, a pre-cut decal sheet with radiator-grill, lights, Audi logo and window masks, as well as some special information from SMI Motorsport.
Convenient: For different cuts and in case of damage SMI Motorsports offers the A5 rear wing additionally as a separate part for both bodies.
Source: SMI Motorsport [smi-motorsport.de]
---