January 28, 2010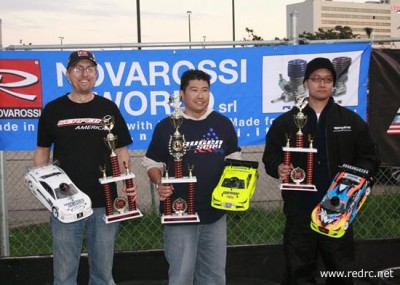 This past weekend race 1 of the Novarossi Challenge Series was held at Crystal Park Raceway in southern California. The big winners were Mike Swauger in the Expert 1/8th class, Darin Ishitani in the Expert Sedan class and Ryan Alfonso in the Sprtsman 1/8th class. It was the first large event that the newly EFRA & ROAR approved Protoform R5-N sedan body was used in competition. Mike Swauger handily TQ'ed using the R5-N and when qualifying was over there were 8 A-main drivers using the body as well. Mike Swauger succumbed to motor problems and was not able to start the A-Main. Mugen teammate Darin Ishitani got he big "Win".
Sedan Top Ten
1. Darin Ishitani (R-5N)
2. Scott Kimbrow (R-5N)
3. Marco Acosta (R-5N)
4. Francis Mejia (R-5N)
5. Diatta Collymore R-5N)
6. Robbie Collins (R-5N)
7.Scott Fisher (R-5N)
8.Michael Palazolla (Stratus 3.1)
9.Walter Diaz (Stratus 3.1)
10.Mike Swauger TQ (R-5N)
Mike Swauger dominated the Expert 1/8th A-Main with a TQ and a "Win". At times he ran effortless laps a half second quicker than his closest competition.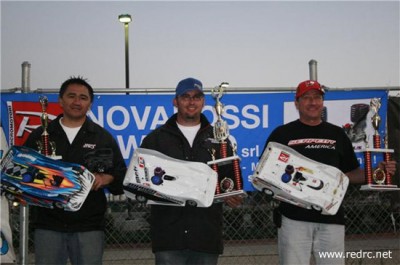 1/8th Top Ten
1. Mike Swauger TQ (Pf P909)
2. Ron Calangi
3. Jim Akins (Pf P909)
4. Garen Hagobian
5. Justin Sheeley
6. Joel J (Pf P909)
7. Brad Toffelmire
8. Christian Lopez
9. Danny Alvarado (Pf P909)
10.Mike Strack (Pf P909)
Source: Protoform [prolineracing.com]
---