January 15, 2010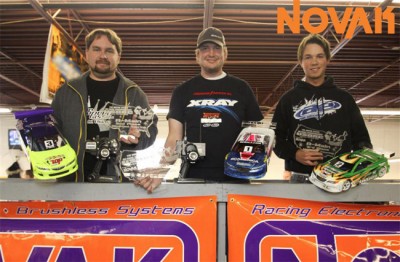 As the ringing in of the New Year brings hopes of great things for the coming year, it also means that it is time for the annual event held at Trackside Hobbies in Milwaukee Wisconsin called the United States On Road Championships more commonly know as the Novak Race. For 15 years Novak Electronics has been the title sponsor of this annual event and it continues to draw some of the best drivers in the country.
As the shape of touring car racing in the USA is ever changing the Novak race offers many stock classes for the average racers. Sure we have some of the best drivers in North America in attendance like Paul Lemieux, Josh Cyrul and Keven Hebert, but the event now revolves around these same pros helping all of the average racers that come to the event to race in the stock classes as much as these pro drivers displaying their amazing talents of driving these cars at the ever increasing speeds.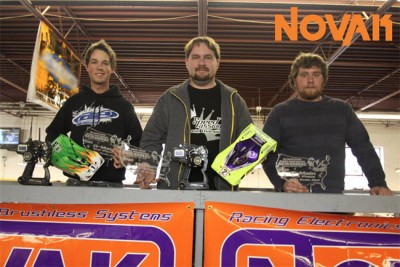 For the Pro's their classes were Modified Sedan and 1/12th Scale Modified. In Mod Sedan it was Paul Lemieux who was the man to beat. Setting the fastest time in qualifying and winning all 3 A finals, Kevin and Josh did their best to hang with him, but Paul was clearly the best this weekend. In 1/12th it was Hebert and Cyrul who were the class of the field. Both drivers had runs at the TQ position but it was Hebert who earned the pole position after an amazing run in round 3. In the A finals it was Cyrul who took A 1 with a great run but it is A2 that everyone will be talking about for a long time. These 2 drivers put on one of the best displays of driving imaginable. Lap after lap they changed positions for the lead, during 1 lap they changed the lead 5 times! This battle went on for many minuets but it was Cyrul who was able to hold off Hebert to take the win in A2 and clinch the overall title. Jason Engel from Ohio had 2 good finishes out of his 3 with a 3rd place, 4th place to make the final spot on the podium.
The step below the big guns in modified is the 13.5 Class. But now with the speeds these cars are reaching with the latest speed controller adjustments, they are very close to modified speeds. This class had its own top drivers who were battling it out for the top spots. It was Josh Hohnstein, Brad Johnson and from Canada Martin Crisp. These guys put on a great exhibition of great driving and it was any one of these 3 who had the chance to be crowned champion. It was Hohnstein who earned the TQ spot but that did not give him an easy shot at the win. A1 to Johnson, A2 to Hohnstein and A3 to Crisp. But that was not the best part, each of these drivers also had a 2nd place which gave each driver 199 points total as we take the drivers best 2 of 3 finishes. So it came down to laps and times of the drivers 2 best runs. So taking the overall championship by only 4 seconds was Josh Hohnstein, 2nd went to Brad Johnson and 3rd went to Martin Crisp. These guys put on a great display of driving and sportsmanship and it was one of the best races of the event.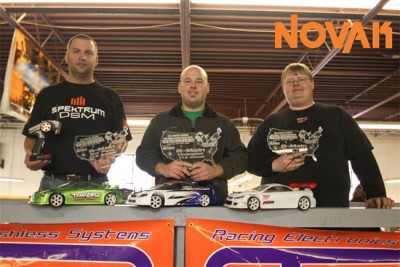 The largest class of the event was the 17.5 Stock class. 55 drivers were entered in this class and the times between the top 10 drivers were so close. You needed to drive a perfect qualifier to be able to make the A final. The Battle for the TQ spot ended up being between Steve Eaves from Tulsa Oklahoma and Nick Stampfel from Sheboygan, Wisconsin. Eaves was the fastest in the early rounds of qualifying but it was Nick who got things figured out in the later rounds and took the TQ honors. Main time it was anybodies race. All 10 drivers were capable of winning this event, it would come down to skill and a bit of racing luck to determine the champion. Luck was unfortunately not on Eaves side as he had some bad luck in all of his mains and he had to settle with a 4th place overall. Doing some great driving from the 4th qualifying spot was Jim Piersol, taking the win in A1 and a 2nd in A2 he was looking great going into A3. It was not to be for Jim as pole sitter Stampfel who finished 4th in A1 came back in A2 to take the win and held off a hard charging Dustin Layne to take A3 and the overall championship. I cant help but congratulate my daughter Sarah Ernst for her 5th place qualifying effort in this class and 6th place overall finish with a 3rd place finish in A3, come on give me a break, I am proud of her, plus it is my race report.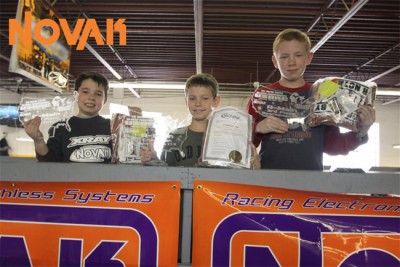 Another great class this weekend was our Sportsman division. This is our beginner class. This is where no matter how old or young you are, there is a class you can run and be part of the Novak race. This years Sportsman class had a good number of young kids racing in it. A couple of Trackside regulars in John Ermer Jr and Jason Hills and a couple of kids who with their dad drove from Tulsa Oklahoma to race with us. Cameron Eaves and Steve Eaves Jr, sons of 17.5 A finalist Steve Eaves joined us for their first big race. All these kids did a fantastic job during the event and no matter where they finished they should be proud. It was 8 year old Cameron who took the TQ honors over a field of 16 racers both young and old. Cameron had bad luck in A1 breaking after only 5 laps, this allowed another one of our youngsters Jason Hills to drive a near perfect final to take the win in A1 followed closely by Eaves Jr and Rich Beatty from Madison Wisconsin. When A2 started we all wondered how Cameron would do after his tough luck in the first final. We soon saw exactly how he would react as he drove tone to tone and built up an 8 second lead to take the win. A3 was much of the same for Cameron, he put his head down and drove an awesome race taking the A3 win and locking up the overall championship. 2nd place went to Jason Hills and 3rd went to the other half of the Eaves team Steve Jr. John Ermer the other youngster in the class had his share of touch luck but he took it well and is looking forward to racing again soon. All of these youngsters have very promising futures in racing and rumor has it the Eaves boys will be traveling to Las Vegas in September to try their hand at the Armature division at the IIC.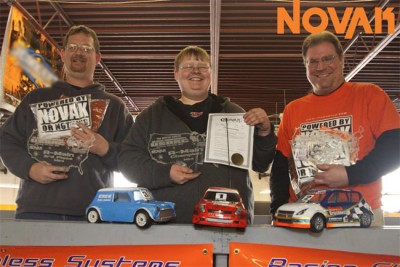 Tamiya Minis made their return to the Novak race this year and it was Tim Szczepanski from Omaha Nebraska who was the early TQ in rounds 1 and 2 but round 3 went to Dustin Layne from Kansas City and he was able to hold on to the top spot in round 4. A1 main was pretty uneventful for our TQ Layne, he drove a great race and finished with a 5 second lead over Tulsa Oklahoma's Wes Wood. A2 was a lot more exciting. Our first and second qualifiers Layne and Szczepanski went at it for the entire race. Both drivers so very close and exchanging the lead many times in the race, coming down for the last lap they were just a few car lengths apart and it became a drag race down the straightaway to the line and it was Dustin Layne nosing out Szczepanski by .6 tenths of a second to take the win and take the overall championship in the class. Szczepanski finished 2nd overall and Wes Wood took home 3rd.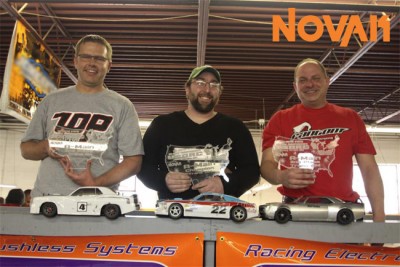 Next up was the Trans Am Class. A class that was started with the idea to bring some realistic muscle cars from the late 1960's and early 1970's to our world of racing. With strict rules to keep the cars realistic and fair. 27 cars in this division and there were 4 drivers that seemed to have their cars just a bit better than the rest. That was Ken Pepe, Rob King, Neil Pestka and Quinton Robbins "Q" as he liked to be called, who were at the top of the field. Early TQ in this class went to Ken Pepe who was able to hold that spot for the first 2 rounds but then it was Rob, Neal and Q who each gave a run for that top spot. We race this class heads up so each qualifier is a race and the final 2 rounds had some very exciting door to door racing and it was "Mr Trans Am" Rob King who earned the Pole Position for the mains. We do a rolling start for our Trans Am classes and this makes for a very unique way to start the race. From the starting tone the same top 4 guys all went at it in each and every main. Each having good runs but in the end it came down to 2 drivers, King and Pestka both took wins in A1 and A2 so in A3 it was all on the line. After a thrilling A3 and numerous lead changes during the main it was Rob King who held on by only 1 second over Pestka for the overall win in A3.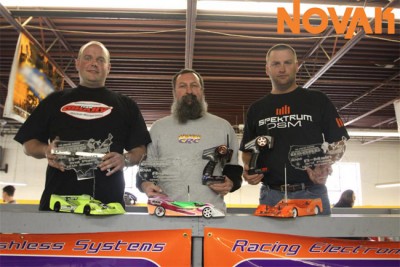 Two other classes rounded out the program for the event and that was 1/12th 13.5 and World GT, In 1/12th it was Jim Piersol who earned the TQ starting spot in front of Eli Ezrow, Brad Johnson and Jody Flipse. In A1 it was Brad Johnson who took advantage of some bad luck for Piersol and took the win. In A2 it was Ezrow who had to fight hard to get a narrow .3 second win over Johnson. A3 was another great fight but it was Ezrow and Piersol who raced down to the wire with Eli taking another close win only 1.7 seconds in front of our TQ Piersol. Unfortunately in these mains our 3rd place qualifier Jody Flipse had his share of bad luck which took him out of contention for the overall win. Great job goes to our 10th qualifier James Arnold who drove 3 great mains from last qualifying spot to finish 4th overall.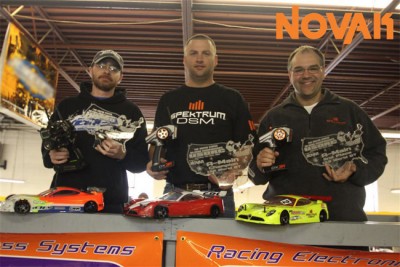 World GT class it was Jim Piersol taking his 2nd TQ for the weekend. Over 2nd qualifier yours truly Scotty Ernst and Team Associated Engineer and designer of the RC10L5 Bob Stellflue. Piersol was clearly the class of the field having the best handling car and just a tick faster than the others, Although Piersol made a few mistakes early in each final he was able to overcome them and take the win in A1 and A2 giving him the overall win. A3 was a good fight between Bob and I, we both drove great in the last final and I was able to hold on for the win by only .8 of a second over Bob.
Click here (PDF) to download the full results from the event.
I have talked a couple of times in this race report about families. One of the great things about owning Trackside for so many years is that I have had the pleasure of watching so many families come through our doors. I have watched the kids grow to become great racers and have something in common with their dads. There are not many things in this life that us parents can do with our kids and still be involved with them, sure we can watch them play sports or cheer them on from the sidelines, but R/C racing is something we can share, We can work on the cars with our kids and share the entire experience of R/C with them. I have shared this joy with my daughter Sarah for many years and we saw it at the Novak race this year with the Eaves Family, John Ermer and John Jr and also with Nick Stampfel and his dad Jim. Jim has worked on Nick's car for many years and even though Nick is older now and has his own family, R/C is still the bond they share and enjoy together. This is their biggest win and Nick told me "it was a gift I have been wanting to give my dad for years" So you can see, no matter how old we are or how old are kids are. R/C is something that we can all do and share together, as a family.
I want to again thank Novak Electronics for supporting this event for so many years, Bob and Linda Novak have always showed great support for all we do at Trackside and we look forward to 2011 when the New Year will again start with the 16th running of the US On road championships.
Thanks to Scotty Ernst for the report/ Photos by Boomer
---