January 15, 2010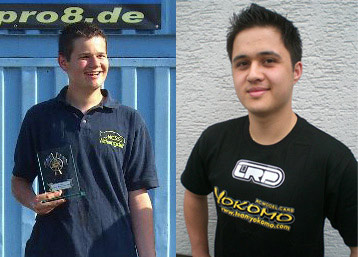 VRC met up with Ronald Völker (RV) on the right and Tobias Brunke (TB) on the left, 2 very successful German VRC racers who happen to have a very similar background in RC. Both racers started their r/c career racing in the Tamiya Cup and used VRC to improve their r/c racing skills. Ronald Volker has become one of world's best racers in 1:10 Touring cars, Tobias looks like he may be getting there very soon too!
Interview with Ronald Völker:
VRC: Ronald, congratulation winning the 2009 Nations Cup 1:10 and of course an overwhelming victory for the German team, and not to forget the DHI Cup in Denmark, one of the biggest international races in the world. How about the Nations Cup for the German team?
RV: The German team was really successful this time, pushing each other a lot to get faster and faster, not only the top 5 guys had good runs at this event!
VRC: Was there good cooperation on setup and strategy?
RV: Yes there were a lot of talk via messages, mails and especially in the German VRC club with each other.
VRC: How did you experience Nations Cup race format?
RV: It is good to have such a format as not the single driver is important, its a good team play format, hope to see more of this.
VRC: What was your impression on the Cincinnati track?
RV: As this track is existing in VRC since long time I know this track very well and it's like always very difficult to get a good consistency at this technical track.
VRC: What are your plans for this season in real and virtual racing?
RV: most important real event this year will be the electric worlds in Germany this summer but there are also many other great upcoming events in 2010. Can't wait for VRC Pro and hope to see the first versions soon! Thanks for inviting me for beta testing…
VRC: Congratulations with the DHI Cup victory. You were in great shape apparently. Keeping your fingers 'warm' with VRC during the winter holidays has kept you sharp then? How do you feel about this?
RV: Well honestly I don't think it makes a big different to me for real racing now like it did for me in the beginning. Or let's say it is difficult for me to notice if it helps or not, it certainly did not harm my driving looking at the DHI result, there was just a week between these 2 races! The main difference to me is that I'm really relaxing during VRC, my feet and legs are up on my bed, my radio is put on my leg, so I feel super relaxed while I'm racing VRC. But I really think for a lot of racers VRC can help to be a better driver in real r/c too, just like it did for me when I started racing competitively. But besides getting better, it is just great fun and exciting too!
VRC: Thanks Ronald, good luck this season, especially with the 1:10 TC Worlds being in Germany!
Now on to 'rising star' Tobias Brunke:
VRC: Tobias, also big congratulations to you for winning with the German Team in the 2009 Nations Cup in both classes, and of course your top-10 finishes in both World Championships. Can you tell us something about how you started in r/c?
TB: I'm 17 years old and started racing rc-car in real 6 years ago. I started in the Tamiya Fighter-Cup and raced there for 3 years. Since season 2007/2008 I´m racing in Tamiya Euro-Cup. My best results were a 9th place at the European Championship 2008 in class "Euro-Fighter" and a 6th place at the European Championship 2009 in class "M-Chassis". This season will be my last in the Tamiya-Cup, because in the future I want to drive in the official "sport"- or "modified"-classes.
VRC: You started racing in VRC in April of 2009 and have been very active since. Was this because you wanted to be more competitive?
TB: Last year I raced also at the German Nationals in Bad Breisig in the class 1/10 EP on-road Touring Car Hobby. Coming from 4th place I won all 3 finals and was the big surprise for everyone there. No one, including my club mates, had expected me as winner. For me it was very unexpected, too. I think without the practice at the VRC demo version in the months before, which helped me to drive more consistent, I wouldn't have won the title. Because the closest racetrack is over 100 kilometres away from my house, I've no real opportunity for training. So I decided last September to join the VRC World Series for getting a training opportunity under competition conditions and my father bought full version of VRC and some tracks for me.
VRC: And this has helped you get better?
TB: On real races I'm driving even more consistent now than last year. I think it's because of the regularly racing at VRC and I'm very happy about the new series.
VRC: Thanks Tobias for this interview and good luck in the 2010 season, both in real and virtual. We'll keep a close eye on how you progress in r/c, maybe one day you will be racing 'door to door' against Ronald Völker for a World Championship title.
Source: VRC [virtualrc.com]
---