February 23, 2010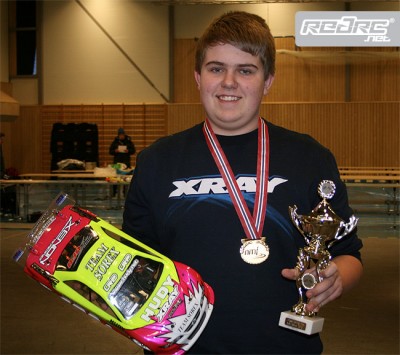 The 2010 Norwegian championship took place last weekend in Spydeberg and classes included 1:12 scale, 1:10 modified and 1:10 Pro Stock, with eighty drivers signed up, however only 65 showed up. There was free practice on Friday to get a better grip on the only 1 race old 600m2 carpet, while on Saturday there were 4 rounds of qualifying with a 5th on Sunday as well as driving finals at the end of the day. Adrian Bernsten won all 5 qualifying rounds which meant he took the TQ spot in front of Helge Johannesen in 2nd and Petter Berntsen in 3rd.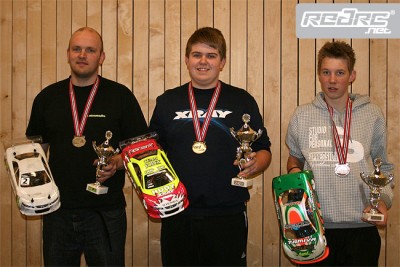 A-main 1
In the start of the first final, Adrian got a clean start while Helge made a mistake in the first corner. Building a big lead, the young Xray driver pulled away from the start to the end having only 1 lap out of 26 over 12 seconds, and having 11.4 seconds as the fastest. After 5 minutes Adrian finished 10 seconds in front of Helge in 2nd and Petter in 3rd.
A-main 2
Also this final Adrian was leading from start to finish. This time Helge followed at the start but trying to keep up the pace he made too many mistakes eventually finishing the final in 4th. This leg win gave Adrian the overall and the Norwegian title. In this final Petter finished 2nd and Joakim Nicolaisen finished 3rd.
A-main 3
Having already won Adrian decided to drive the last final as practice for the European championships. Petter and Helge were going to fight for taking 2nd place overall and in the end it was Helge who took the second place finishing in 2nd in leg 3 behind winner Adrian and three second ahead of Joakim in 3rd and Petter in 4th.
Thanks to Adrian Bernsten for the report.
---